Premier League: Wojciech Szczesny ready to make No 1 jersey his own at Arsenal
Wojciech Szczesny feels being dropped last season may have been a blessing in disguise.
Last Updated: 22/12/13 4:39pm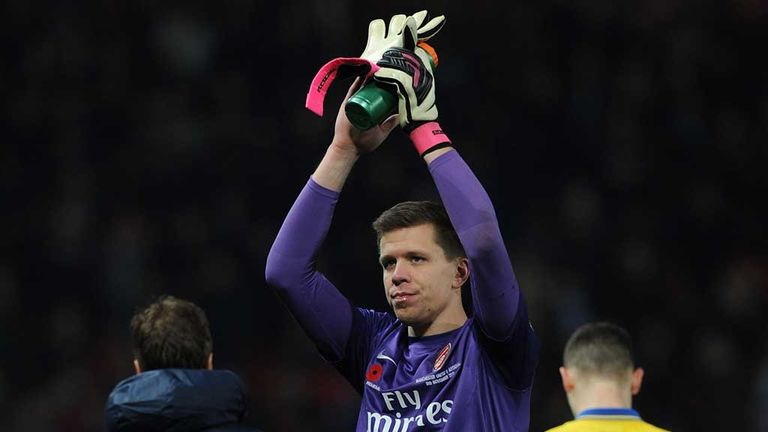 The Poland international, who has kept 11 clean sheets this season for Arsenal, believes being taken out of the firing line by Arsene Wenger for the Champions League tie at Bayern Munich in March may have been a turning point in his career.
"It is hard to tell because I don't know what it would have been like if I
wasn't dropped, but looking at my own performances now it must have been a good decision from the manager because I feel better, I feel sharper and more confident in myself," Szczesny told the Arsenal magazine.
"That little break away from the pressure meant that I could focus on my training to come back sharper, and so far it has worked out pretty well.
"I think I am very consistent now, I am a little bit more mature and the back
four are helping me out as well, so I would say it is the most consistent run of my career - but there is still a lot of room for improvement.
"The experience I have had of playing 130-odd games for one of the biggest
clubs in the world gives you that maturity and calmness.
"It probably makes a big difference in my performances as well. Maybe it comes with maturity but I do feel more focused during games."
Wenger continues to have faith in the squad as they face another stern test of their championship ambitions against Chelsea in the Sky Live clash on Monday evening.
"Our (recent) results have been disappointing for us, but I don't think they
have affected the morale," the Arsenal manager said.
"We have made good results until now because we have a good solidarity level and a good togetherness in the squad, and I don't see any sign of that dropping.
"The players are even more focused to respond on Monday night. It can happen in a season when sometimes you have a bit of a weaker period.
"How you respond to this kind of problem is what matters, and that is what we
want to show on Monday night."
Watch Arsenal take on Chelsea live on Sky Sports 1HD from 7pm, or for just £4.99 with a NOW TV day pass.