Premier League: Arsenal's Lukas Podolski ready to fight for title after returning from injury
Lukas Podolski is 'happy to be back' for Arsenal after returning from injury - and is ready to 'fight' for title glory.
Last Updated: 28/12/13 11:29am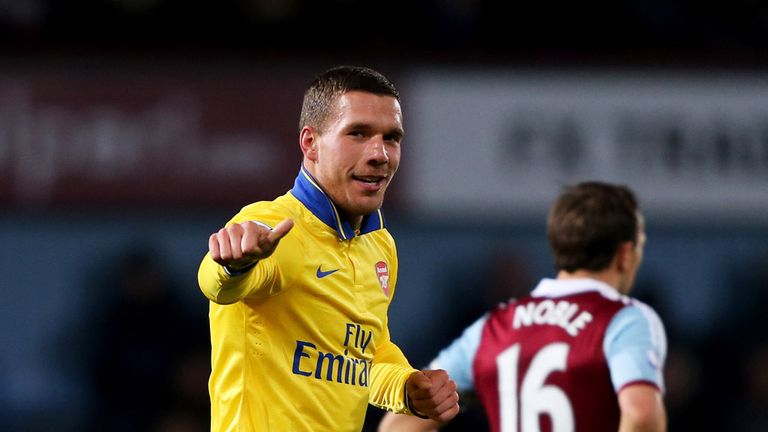 The 28-year-old saw a promising start to the season abruptly halted by a hamstring injury sustained in the 2-0 Champions League play-off defeat of Fenerbahce on August 27.
Arsene Wenger had initially expected Podolski to be back within 10 weeks, but it took until the trip to West Ham on Boxing Day for him to eventually return.
Introduced with 25 minutes remaining, the Germany star hit the ground running and struck home the final goal of the Gunners' 3-1 London derby win.
"I have been out for a long time, four months," Podolski said. "It was not easy, but I was happy to play again. When you are out for a long time it is not easy, but I am happy to be back.
"I have never had a muscle injury before so it was a new experience and not easy.
"It was a hamstring injury, my left one. They take a long time. It is nearly four months since I played.
"Every morning you come in, you have treatment, you work to get fit while the others are working outside.
"It is not easy for the head, but this is the way and I am young enough to play a lot of matches."
Part of the psychological strain Podolski came under was thanks to his team-mates' success on the field, with Arsenal spending much of the first half of the season at the top of the Premier League.
"When you sit on the bench or in the stadium or on the couch at home it is not easy to watch," he said.
"You don't have the feeling with the team and in the dressing room. But that is the way it is in football, so I am all the more happy to be back."
Podolski's return should be a huge boost to Wenger, whose side have impressed this season but lacked attacking depth.
And now the German forward is back, he is intent on adding a Premier League title to the Bundesliga crown he won with Bayern Munich.
"Every match is important now, every match is about three points," Podolski added. "We are top and of course we want to stay there.
"It is not easy because there are five or six teams who are all strong this season, but we have a strong team and we will fight."