Premier League: Arsenal playmaker Mesut Ozil out with a shoulder injury
Arsenal playmaker Mesut Ozil could be fit again in a week and Arsene Wenger has ruled out a bid for Yohan Cabaye.
Last Updated: 29/12/13 6:18pm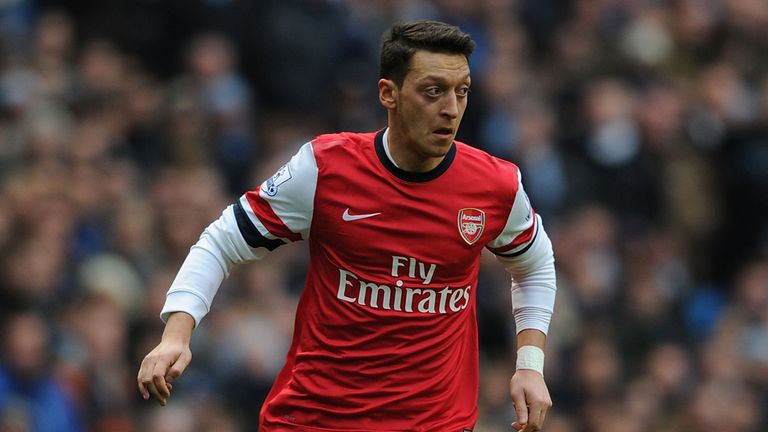 Record signing Ozil missed Sunday's 1-0 victory over Newcastle at St James' Park due to a shoulder injury.
The Germany international is likely to sit out the New Year's Day game at home to Cardiff City and next weekend's FA Cup third-round tie against local rivals Tottenham Hotspur.
However, Arsenal boss Wenger played down any concerns that Ozil could face a prolonged period on the sidelines.
"It is an inflamed shoulder," said Wenger. "It should be maybe one more week, maybe less, I don't know, but not a long time."
Wenger was also without Aaron Ramsey, who has a thigh problem, as well as Thomas Vermaelen and Nacho Monreal, who missed out through illness, at St James' Park.
Olivier Giroud's 65th-minute header secured the points which will send Arsenal into the New Year on top of the Premier League table.
With the January transfer window due to open, there has been speculation Wenger will try to bring in reinforcements to keep Arsenal's title challenge on track.
Wenger, though, has played down the prospect of making a renewed offer for Cabaye after the Magpies midfielder was an Arsenal target during the summer window.
He added: "We don't look for midfielders because today, we had no Ozil, no Ramsey, who stayed at home, and we had still three good midfielders and had still [Mikel] Arteta on the bench, so there is no real need in there."