Theo Walcott stays grounded after Arsenal end year on top of the table
Theo Walcott played down the title race hype after Arsenal ended the year on top of the Premier League.
Last Updated: 30/12/13 5:25pm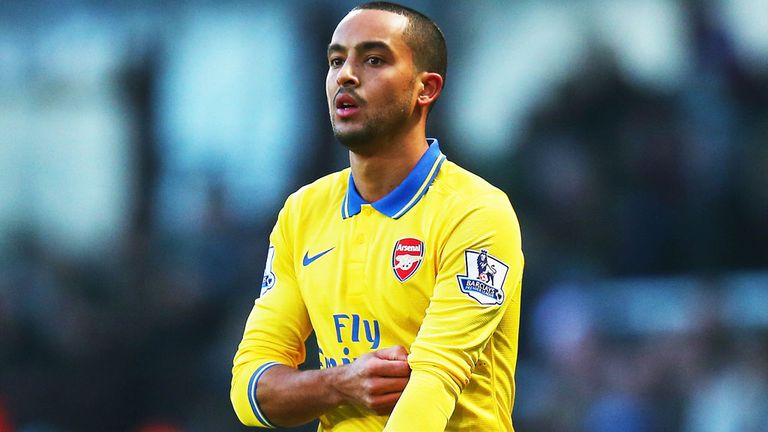 This year's battle for the Premier League crown has been fiercely contested, with Liverpool and Manchester City enjoying brief spells at the summit over the festive period.
Chelsea and Everton are only a few points adrift after a thrilling first half of the season, but Arsenal head into the New Year with a slender one-point lead after a hard-fought 1-0 win over Newcastle on Sunday.
Walcott admits the battling display at St James' Park has instilled fresh belief that Arsenal can claim the trophy, but he knows there are plenty of tough matches ahead.
"Every game that goes and we get wins, it's more belief that we are going to win the league," he told the club's official website.
"But we won't get ahead of ourselves. We know how crucial every game is and we have got to make sure we look after ourselves, really, and hopefully teams will start to slip up.
"But as long as we keep on believing, which everyone is there, and which we have been doing from the start of the season.
"Hopefully everyone can stay fit, which is important, to have a nice run towards the end of this season now."
Olivier Giroud netted the only goal for Arsenal and appeared to play through the pain after injuring his foot in a challenge with Mike Williamson.
Walcott originally thought he had scored from his free-kick, but was glad that Giroud was rewarded for his recent hardworking displays.
"When you play up front, you want to score goals. He hasn't scored for a few games now, so that goal will give him a lot of confidence," he said.
"You need your main striker to be scoring up front throughout. I didn't think he touched it, to be fair, when I free-kicked it in, but I am happy for him because he deserved it.
"He works really hard for us up front all the time. He's had a massive role to make us stay at the top of the league, so hopefully he can stay fit now and hopefully that's not too much of a bad scar on his foot."
Walcott netted a double as Arsenal fought back from a goal down to claim a 3-1 win over West Ham on Boxing Day and he feels the players proved they can handle the pressure.
"We have had two tough away matches in this festive period, so I think a lot of people probably doubted us that we were going to get results," he said.
"But it just shows that we have got great characters in that dressing room and we are getting stronger and stronger every week.
"Everyone trusts each other, which is so important in the dressing room now, so going into the new year, we are very excited now.
"You could see from the 10 games last year when we had that run that it was coming and we had it in ourselves.
"It was an absolute battle. Newcastle, it was always going to be tough here. We knew from the start it wasn't going to be the prettiest game.
"But when you want to win the title, you have got to come to places like here and try to get a result, and we managed to keep a clean sheet, which is important."