Arsenal forward Theo Walcott faces six months out and will miss the World Cup
Arsenal forward Theo Walcott must undergo knee surgery and will miss the rest of the season and the World Cup.
Last Updated: 07/01/14 7:32am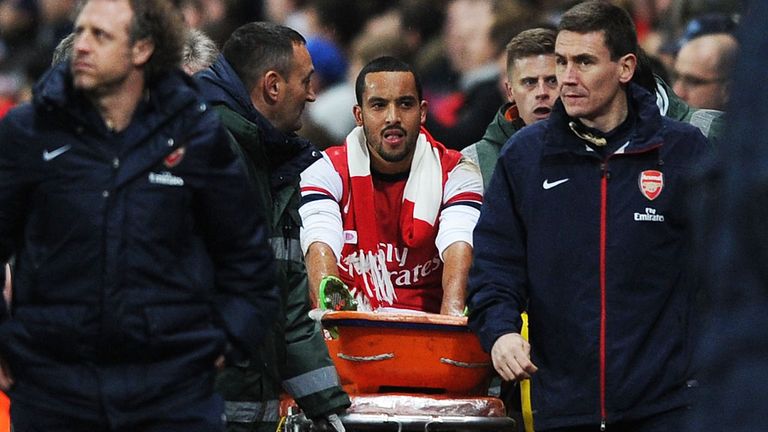 Walcott suffered an anterior cruciate ligament injury to his left knee during Arsenal's FA Cup win over Tottenham on Saturday.
The England international will undergo an operation in London which will see him miss the rest of the season, including the World Cup in Brazil.
Walcott twisted his knee while making a tackle in the closing stages of the 2-0 win at the Emirates, but he did not appear in serious pain as he left the field on a stretcher and even signalled "2-0" to the Tottenham fans.
The Football Association decided not to take any disciplinary action against Walcott for the gesture, but he will be out of action for a lengthy spell.
Arsenal confirmed on their website: "Theo will have surgery in London in the near future and is expected to be out for at least six months, therefore missing the remainder of the season and the World Cup in Brazil in the summer.
"Everyone at Arsenal wishes Theo a speedy recovery and we look forward to seeing him back on a football pitch as soon as possible."
Former Arsenal midfielder Ray Parlour admits Walcott's absence will be huge setback for his club and country.
"Massive blow it really was," Parlour told Sky Sports News. "Theo has just come back from injury himself. He's come back into the team and been a regular starter, scoring goals but this is a real big shock for a lot of people.
"What a really big injury this is for Arsenal and England. I'm sure Theo would have been a starter for England in Brazil. It must be a massive blow for himself.
"He's playing in a very good team at the moment, at the top of the league and looking forward to Brazil and suddenly gets this big injury shock.
"Everybody must think about Theo at the moment because he must be absolutely distraught about the extent of the injury."
Sky Sports pundit and former Arsenal striker Charlie Nicholas also lamented the injury to Walcott, saying: "Arsenal are going to miss him badly.
"If Theo had stayed fit until the end of the season, I think he would have got Arsenal the title because his pace can stretch defenders.
"His pace was the asset that the team will miss more than anything. The longer the season goes on the deeper the teams will get and I think that's the asset that Arsenal are going to miss and the goals they will certainly miss."
Arsenal team-mate Aaron Ramsey had to undergo extensive rehabilitation after breaking his leg and he offered his support to Walcott.
Ramsey tweeted: "Gutted for Theo, he'll come back stronger after this. Been fantastic for us so far this season. Have a speedy recovery mate."
Arsenal manager Arsene Wenger must now decide whether to go into the transfer market to boost his attacking options, with strikers Olivier Giroud and Nicklas Bendtner also having suffered injuries.
Speaking last week, Walcott acknowledged that he would welcome any additions after Fulham's Dimitar Berbatov was linked with a move to the Emirates.
Walcott said of the situation: "To be fair that is for the manager to decide if he wants to go out and buy anyone, whoever will come to the club in January, if not it is going to make the club stronger anyway.
"It is always nice to have competition with players coming in, but January is such a difficult period in the transfer market to get players in, especially the top players.
"The boss has already said that he is looking for special players and we have got a lot of special players in that dressing room."
Wenger had been impressed by Walcott's performance against Spurs after the former Southampton youngster was handed the job of leading the line.
"I liked what Theo did because he played before in that role, but against Spurs he added purpose and commitment, more decisiveness to his game and a more fighting attitude," said Wenger.
"With that, he looks every time like he improves in that position and with the quality of players behind him, he can be very dangerous in that position."