Arsenal's record signing Mesut Ozil enjoying playing in the Premier League
Mesut Ozil is happy with how quickly he has settled in at Arsenal and is hoping to end his first season with a trophy.
Last Updated: 13/01/14 10:36am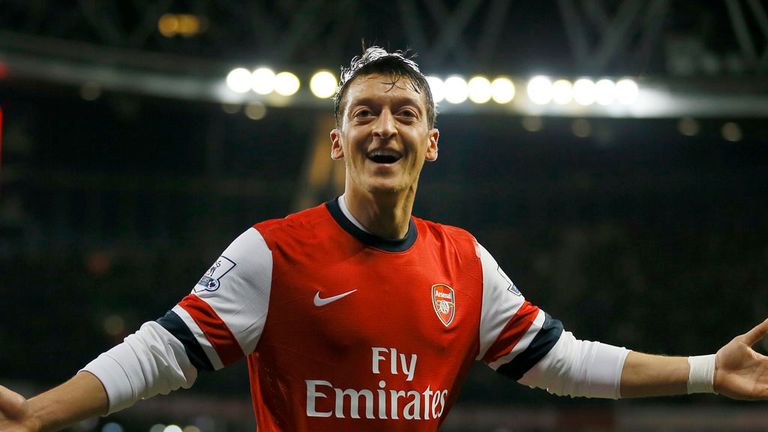 The Germany international was a club record arrival at Arsenal from Real Madrid before the summer transfer window closed and has made an immediate impression at the Emirates Stadium.
The playmaker is enjoying playing for Arsene Wenger's side and is eager to help Arsenal to win their first piece of silverware since lifting the FA Cup in 2005.
"I feel comfortable here," Ozil is quoted in the Daily Star Sunday. "You can see on the pitch when we play together that we have a very good understanding.
"The team is great and for me it has been very easy to settle - the German players have helped me to establish myself quicker than I perhaps would have done if they were not here.
"You have personal goals - you want to remain healthy and play successful football.
"My aim is to develop and improve my game here but the most important thing is we play successful football as a team and that at the end of the season we win trophies.
"I know what I can do and a footballer always strives for more success."
The former Werder Bremen youngster also outlined how much 'fun' it is to play in the Premier League following his previous stints in the Bundesliga and La Liga.
He told Arsenal Player: "For an offensive player it's pleasant because you get lots of room. But you can't forget to do your defensive work because [the match] goes up and down.
"Nowadays, it's not only the defence that defend and the attackers that attack and that's why it's much more tiring to play in this league. In general, as a footballer in the Premier League you have lots of fun because the league is so interesting and it is so much fun to play here.
"[But] it's more tiring because the game goes backwards and forwards. In the Bundesliga or La Liga, you sometimes see the smaller teams play deeper or more defensively with men behind the ball. It's the opposite here - the smaller teams want to prove themselves against everyone and are not afraid to go on the attack."