Premier League: Arsene Wenger welcomes Olivier Giroud's Arsenal return at Aston Villa
Arsene Wenger hopes Olivier Giroud will show that Arsenal already have a top striker when he returns at Aston Villa.
Last Updated: 13/01/14 10:29pm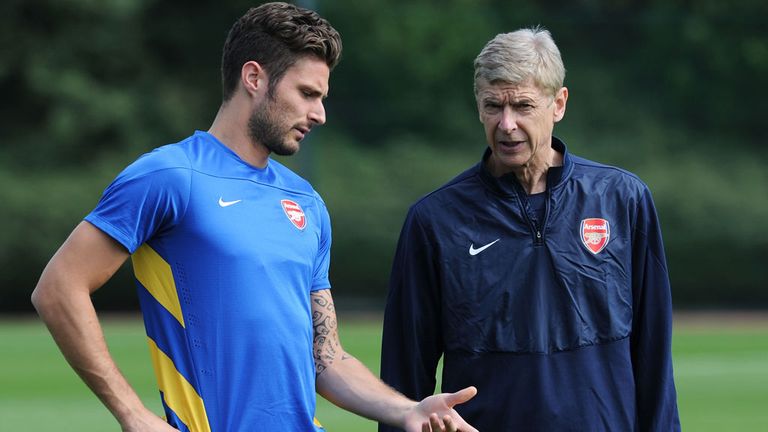 The Frenchman sat out Arsenal's last two games after suffering an ankle injury, but he returns for the trip to Villa Park as the Gunners attempt to regain top spot in the Premier League.
Wenger's attacking options have been shortened by the long-term loss of Theo Walcott due to a serious knee injury and he has been linked with a move for Atletico Madrid's Diego Costa.
But the Arsenal boss insists a refreshed Giroud will give his team some much needed firepower.
"People want always new names, but what is important for us is that Giroud is back," said Wenger.
"He was a bit tired recently, but now he is refreshed and I'm sure he will have a major impact on the second part of the season.
"When you speak to the coaches after the game, they say 'oh, what a client he is'.
"Giroud has qualities that the rest of the squad has not got, he always gives us that strength.
"We have small players who combine quickly, so to find someone who can hold it, keep the ball, make some room for other players, he does that very well and gives us a very good balance."
Wenger revealed how Giroud remained on the pitch for the recent win at Newcastle, despite a gaping cut on his ankle, and praised his committed approach.
"He's a tough, tough boy. Even when the medical people say he should rest, he says: 'I'm alright.' He needed five stitches after the game at Newcastle," he said.
"He played the whole game at Newcastle with an open ankle (wound) and without complaining - and when I took him off, he didn't want to come off.
"He is always ready for a fight, even when he is tired."
German teenager Serge Gnabry produced an impressive display in the FA Cup win over London rivals Tottenham and Wenger feels he can help to fill the void left by Walcott.
"We are looking at a guy who has good individual talent, he can pass people, is a good finisher, and has a very good football brain with good vision," he said.
"Gnabry has great pace, is two footed, can finish right and left. He has a lot in the locker."
Aston Villa v Arsenal is live on Monday Night Football, Sky Sports 1HD