Premier League: Per Mertesacker says Arsenal can challenge for title
Per Mertesacker believes Arsenal have shown that they can handle the pressure of being Premier League title contenders.
Last Updated: 15/01/14 12:14pm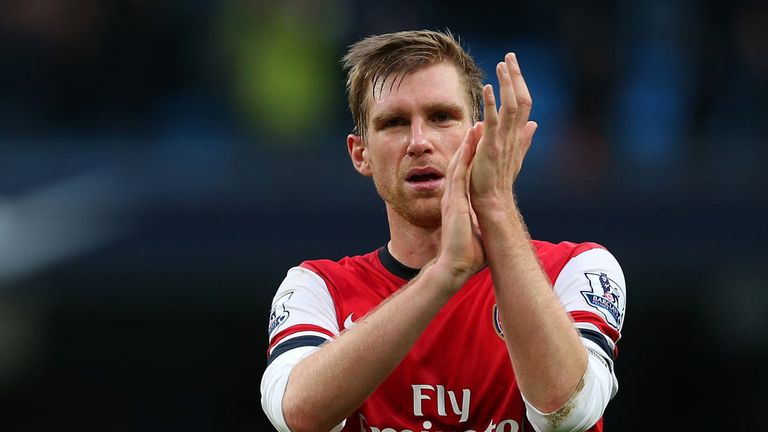 The Gunners were forced to watch on over the weekend as their nearest challengers - Manchester City and Chelsea - both won and took turns to occupy top spot in the standings.
It was, however, to be Arsene Wenger's men who ended the latest round of fixtures at the summit, with a 2-1 win away at Aston Villa preserving their one-point advantage.
Mertesacker feels a dogged display in the Midlands proves that Arsenal are ready to compete for top honours and offers the perfect response to those questioning the Gunners' resilience.
The German centre-half said in The Sun: "We look at ourselves and think we are good enough to respond to any challenge others give us.
"It is always harder to play on a Monday night, especially as all the teams at the top also won.
"No-one dropped any points at all, so there was a bit of added pressure. The team could definitely feel it, but we responded.
"Away from home, people may have been expecting us to drop points but we just kept going.
"We went back to the top of the league. And that was important, because it let the other teams see that Arsenal are still alive and able to respond to anything.
"They gave us a big task by winning but we also gave them a good idea of what this Arsenal team is about."
Mertesacker added: "Against Aston Villa, we showed the other teams that we can feel the pressure but still win.
"It's really tight at the top at the moment, so there is no chance to drop any points. We showed them all how resilient we are now.
"We are really happy with our fighting performance, especially in the second half."