Premier League: Santi Cazorla says Arsenal top table on merit
Arsenal midfielder Santi Cazorla is convinced they deserve to be above Manchester City at the top of the Premier League.
Last Updated: 19/01/14 11:32pm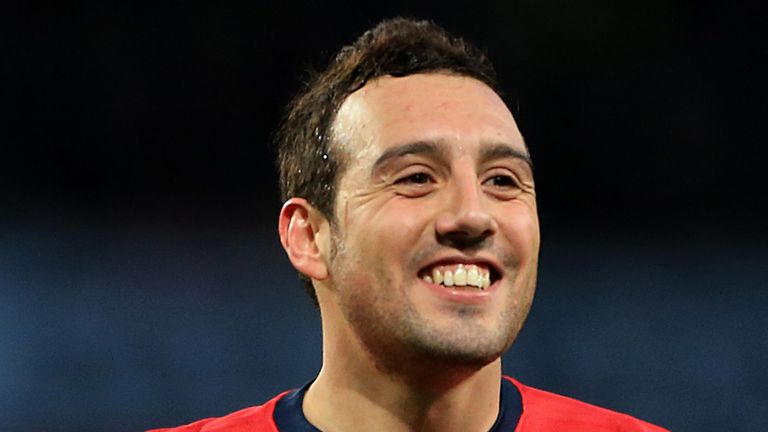 Arsene Wenger's side maintained their one-point advantage over high-scoring City with a 2-0 win over Fulham at the Emirates Stadium on Saturday.
Cazorla scored both goals but City continue to keep up the pressure on them, and Manuel Pellegrini's team took their goals tally to 103 for the season with their 4-2 win over Cardiff.
But the Spain international insists Arsenal are at the summit on merit having surpassed many critics predictions for them.
"At the moment, we are showing that we are up there with them," he said.
"Maybe at the start of the season nobody put us up as high as Manchester City or Chelsea, maybe because of the signings they made.
"But it is ultimately demonstrated on the pitch and, right now, Arsenal are above them and our objective is to keep fighting with them.
"(But yes) it is true, they are big favourites for the title as well."
Cazorla feels their ability to win games they would have let slip in the past has helped them improve this season.
"There were games last year where we would go 2-0 up and we would end up losing it under pressure (and) for a title-winning team that cannot happen," he added.
"This season, the team is much more solid, we are much better at closing out games.
"We need to continue this form, because of Chelsea and Manchester City.
"In the end, a team like Arsenal, that is striving for trophies, and has gone a fair few years without winning any, the aspirations we should have are to win as many trophies as possible and challenge the best teams.
"Right now, in the Premier League, we are top because, up until now, we have been the best team.
"In the Premier League it is about consistency, who has been the best throughout the season and, right now, we are at a very good level."