Premier League: Arsenal midfielder Mikel Arteta believes Liverpool are title rivals
Mikel Arteta admits that Arsenal see Liverpool as genuine contenders in the Premier League title race.
Last Updated: 08/02/14 3:38pm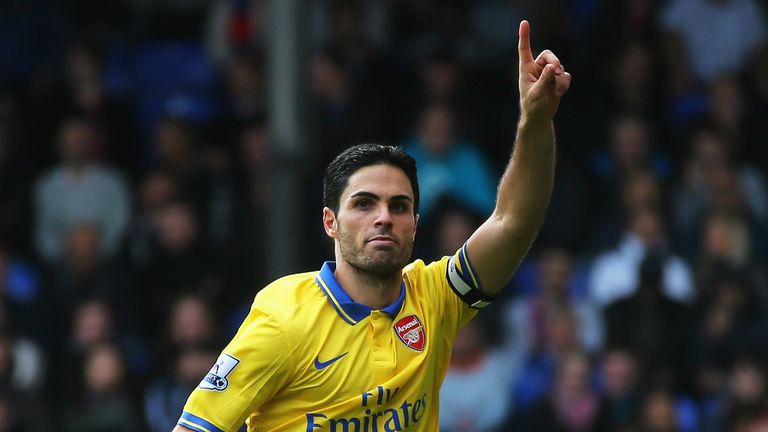 The league leaders have an eight-point advantage over Brendan Rodgers' side, who occupy fourth place ahead of the clash between the two at Anfield.
Arsenal were 2-0 winners when the sides met at the Emirates back in November, a result which demonstrated their title-winning credentials after a strong start to the season.
Rodgers has consistently rejected suggestions that Liverpool could finish in top spot, but Arteta thinks that they are firmly in contention.
"Liverpool are definitely one of our title rivals at the moment," he told the Sun.
"They have struggled a bit in recent years but they've managed to build a new team with a new manager and a new philosophy.
"They have been very consistent this season, they have been scoring a lot of goals at Anfield and they are a brave, creative side.
"They play with two strikers most of the time and they have been the best strike partnership in the Premier League. So it is going to be a very tough match for us.
"But if we can open up an 11-point gap it would be very difficult for them to catch us with 13 games to go."
Second-placed Chelsea and third-placed Manchester City trail the Gunners by just two points and Arteta says that they are taking nothing for granted.
"You cannot predict what is going to happen in the Premier League this season because there have already been so many strange results," he said.
"No one knows how many points we will need to be champions. I'm not even sure that 90 will be enough.
"In any other league apart from Spain, that would be more than enough. But in England there are four or five teams going for the title and the lead is changing hands all the time.
Arteta also believes that Arsenal have shown major signs of improvement this campaign, pointing towards the tightening up of their defence as one of the reasons for their success so far.
"Every Arsenal player has taken a real step forward this season," he said.
"We have stopped the mistakes that we used to make which cost us a lot of points in previous seasons.
"The amount of clean sheets we've had this time makes a big difference. That has allowed us to win game after game, which is not an easy thing for any team to do in this league."