FA Cup: Arsenal midfielder Serge Gnabry is hoping to impress against Liverpool
Arsenal midfielder Serge Gnabry hopes to use Sunday's FA Cup tie with Liverpool as a chance to impress.
Last Updated: 16/02/14 11:56pm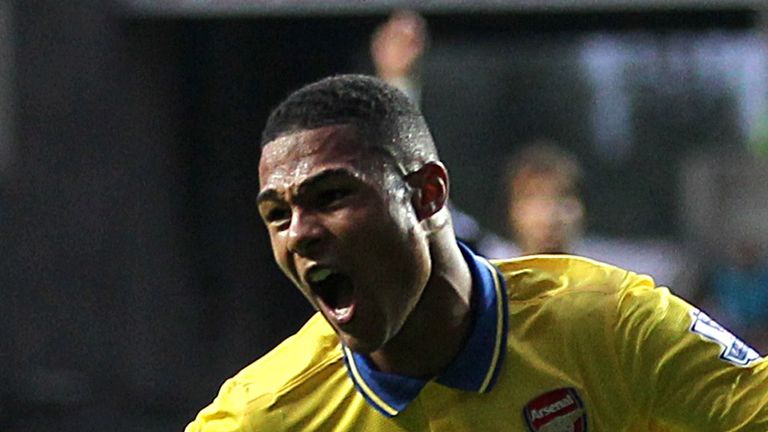 Arsene Wenger is expected to rotate his side at the Emirates Stadium, with perhaps one eye on next week's crunch Champions League clash against Bayern Munich.
That could mean the likes of striker Olivier Giroud and vice-captain Mikel Arteta are given a breather, which would open the door again for 18-year-old Gnabry - who started both the previous ties against Tottenham and Coventry - to have another chance to impress.
"I am eager to get back in the team and I'm trying my best in training," German youth international Gnabry said in Arsenal's matchday programme.
"I am hoping to catch the manager's eye and hoping to get back in the starting XI.
"The FA Cup is a great opportunity for young players. I really enjoy playing in the competition and I hope we make it to the final.
"We have got a chance, and it doesn't matter who is still in the cup because in the end you have to play the best teams.
"I think it is going to be a great game for sure and we just want to make it to the next round."
Wenger maintains he will not make too many changes which would compromise the integrity of his side.
"I play a team with a good opportunity, a good chance to qualify," he said. "Will I rest one player, or two or three? I don't know yet. Certainly we will just have one focus, which is to win the game."
The Arsenal manager added: "We will go for any competition we can, and the FA Cup is one of the competitions and it is our next game so of course we will go for it."
Wenger - who was branded as a "failure specialist" by rival Chelsea boss Jose Mourinho following his own comments about the state of the Barclays Premier League title race on Friday morning - accepts his side must step up to the challenges ahead over a crunch period of the campaign.
The Gunners boss, though, insists there can be no thoughts of what happened against Liverpool last weekend, when his team were thrashed 5-1 at Anfield, where they trailed 4-0 inside the opening 20 minutes.
"You can say what you want, when you just conceded five goals you do not go into the next game and act like nothing happened," said Wenger, whose side drew 0-0 at home to Manchester United on Wednesday.
"I feel that we got the mental response I expected from the team - hugely committed, but with a bit more confidence and were a bit more composed on the ball."
Wenger added: "The mental shape and the mental level of confidence of the team and the positive vibes that are within the the team are always very important, therefore the results in any competition can have an influence."
Santi Cazorla is struggling with a virus, but midfielder Mathieu Flamini is available again following a three-match suspension.
Wenger said: "Flamini gives us sometimes as balance between offence and defence, but especially when Arteta is not there because Arteta is a tactical brain and Flamini as well tactically is good, so you need always one of the two."