Premier League: Arsenal's Mesut Ozil still suffering after penalty miss v Bayern, says Arsene Wenger
Arsene Wenger says it will take Arsenal's Mesut Ozil a while to recover from the disappointment of his penalty miss.
Last Updated: 22/02/14 2:14pm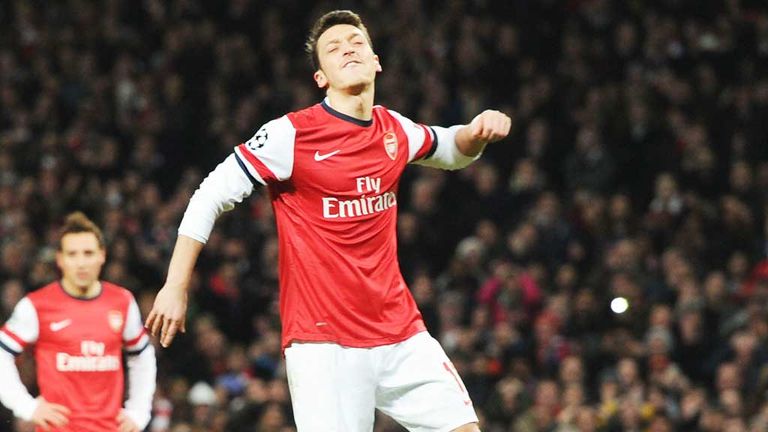 The Gunners were beaten 2-0 at the Emirates on Wednesday by Bayern Munich but could have taken the lead in the first half, only for Manuel Neuer to save Ozil's tame spot-kick.
And Wenger said at his Friday morning press conference that the German was still rueing the miss.
"He is over it now?" said the manager. "Certainly not. He apologised after the game, but 48 hours is a bit short to get over that.
"It's part of the job to deal with disappointment and to show that you can respond to it.
"I don't think people are surprised that he missed a penalty because Bayern missed a penalty as well.
"He takes his penalties in an unusual way, so people are maybe a little bit less understanding, but everybody can miss penalties.
"It is his way, you accept it or not. It's his way of taking penalties like that.
"At the moment, we have to let him recover from that. I had examples before with people like Dennis Bergkamp, who missed an important penalty in '99 and refused to take any penalties after that.
"He gets a statue tomorrow (a Bergkamp statue will be unveiled at the Emirates on Saturday) so it doesn't take a statue away from you!
"Other people (who miss penalties) don't mind and they do it again."
Giroud set to return
Wenger also confirmed that Olivier Giroud will be involved in Saturday's Premier League game at home to Sunderland but Kieran Gibbs will miss out due to injury.
Giroud was surprisingly left on the bench for Wednesday's loss, Yaya Sanogo starting, but Wenger is planning to shuffle his pack for this weekend's match at the Emirates.
"There will certainly be changes, that's for sure," he said on Friday. "How many, I don't know yet. I have to decide today after training and tonight.
"We have Gibbs injured from our last game and he is definitely out.
"Nobody else is coming back, apart from (Mikel) Arteta, who is back from suspension and will be available.
"It is likely Giroud will be involved tomorrow. Resting him was part of a refreshment plan.
"But Sanogo can make a huge contribution for the rest of the season because he hasn't played many games."