Arsene Wenger says Yaya Sanogo can be 'new' Nicolas Anelka
Arsene Wenger believes that Yaya Sanogo could turn out to be his 'new' Nicolas Anelka.
Last Updated: 22/02/14 12:26pm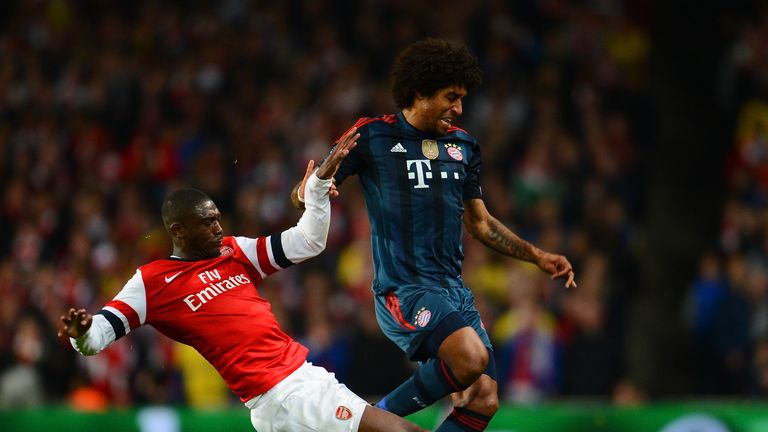 Wenger surprisingly picked the French rookie for their midweek Champions League defeat to Bayern Munich - given he had previously made just one subsitute appearance for the club.
But Wenger has backed his own selection of the untested 21-year-old, insisting people said the same when be blooded Anelka - who went on to become a plus £20million sale for the club, after arriving from Paris Saint Germain for just £500,000.
"When I started to play Anelka, everybody said: 'Why are you starting with Anelka, why not buy a striker?'" claims Wenger.
"We won a championship with him. If we feel they are ready, then they play.
"There's a potential there. Sanogo is world champion of the Under-20s, if he was an English centre-forward and was world champion of the Under-20s, you would not ask me these questions. It's as simple as that.
"We look at the quality of the performance of the player, not at the number of minutes he's played.
"If you only looked at that, nobody would ever get a chance. And up front, it's not the experience that decides.
"I have to make my decisions with my conscience and I base it on who can help us win the next game. He did not look out of place in the two games he played."
Sanogo was captured in the summer from Auxerre, with the club paying minimal compensation for the highly-rated forward.
Giroud
Sanogo's appearance came at the expense of Olivier Giroud - who has recently been rested by Wenger, but he is expected to return for this weekend's clash with Sunderland.
"Recently, he's been a bit less fresh and it's shown in his game. He had hit a brick wall, but he will bounce back," he said of Giroud.
"I am not worried for Giroud. His head is in the right place. He's always mentally focused.
"He's a great player. He is a great fighter as well. He has been successful until now, during this season he's played a big part in it."