Arsenal legend Dennis Bergkamp emotional as statue is unveiled at Emirates
Dennis Bergkamp admitted feeling tearful and emotional after Arsenal unveiled a bronze statue of the Gunners legend.
Last Updated: 22/02/14 5:02pm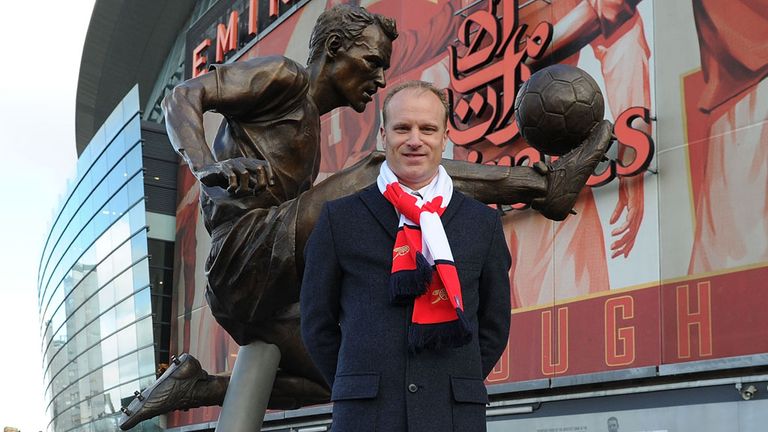 The statue has been erected outside the Clock End and pays tribute to a man who played more than 400 games for the Gunners.
Bergkamp joined Arsenal from Inter Milan in June 1995 and went on to score 120 goals.
The 44-year-old helped the club win seven major trophies, including three Premier League titles.
Bergkamp said: "I spoke to Thierry Henry last night and he warned me about this moment. He said 'you will be fine until you have to talk a little bit, and you will be emotional', that happens to me now.
"All this makes you realise how many good years we had here and how big this club has become over the last 20 years. I was just happy to play a role in that.
"You all see me as a team player, and there is only one statue of me, but I believe it is part of a whole team that I was involved in which made me shine.
"When you think of that team, it is not only the quality players around you, it is the fantastic manager, the staff around the club.
"I would like to thank my friends and family as well, they have been there from the beginning in my career.
"Thank you to Henrita, my wife. We made this adventure together and have four beautiful children who were all born in England.
"Last but not least, I had a very good relationship with the fans. You were very patient with me.
"In the first six or seven games of my career, a lot of people spoke about is he good or not? Can he do it?
"We had some comments from chairmen of other clubs in London, I won't mention the name!
"We proved them all wrong and are where we are now, and it is all down to the fans because you had belief in me, in the team, so this is how it ends with a beautiful statue."