Premier League: Arsene Wenger backs Arsenal's record signing Mesut Ozil
Arsene Wenger has vowed to try and protect Arsenal star Mesut Ozil from the burden of expectation.
Last Updated: 28/02/14 8:24am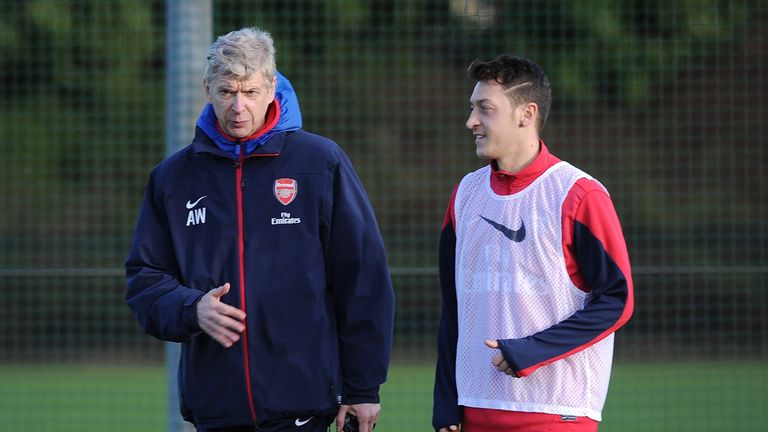 Ozil's missed penalty against Bayern Munich in the Champions League brought further scrutiny on the club's record signing following an indifferent run of form.
Wenger has admitted the Germany playmaker has struggled to adapt to a relentless schedule but hopes a two-day break will see him return refreshed for Saturday's trip to Stoke.
"It is difficult for him mentally to be confronted with that pressure every three days and in every single competition," Wenger said of the £42.5million man, who missed the win over Sunderland with what his club claimed was a dead leg. "But he will adapt.
"Maybe he feels that (record signing tag) a bit in a different way than I do. I just want him to enjoy it and play well.
"He has gone a little bit through a difficult time. It can happen to anybody. So have others in the past, and so I don't worry about Ozil."
Despite a daunting 2-0 deficit to recover against Bayern Munich in the Champions League, domestic hopes are still high, with Arsenal just one point shy of leaders Chelsea.
But Wenger has urged Ozil not to heap pressure upon himself.
"He shouldn't do that," Wenger added. "It's down to the performance of the team. I never tell him, 'You have to win us the game'.
"He's all right. He loves to play. You give him a ball, he's happy. That's the most important thing. And he has the quality, so I don't worry.
"We have the experience to do that: you have always to be behind your players. The best way is to show him support."