Alex Oxlade-Chamberlain out to stake Brazil World Cup place
Alex Oxlade-Chamberlain will have the World Cup on his mind when England face Denmark at Wembley.
Last Updated: 05/03/14 8:02pm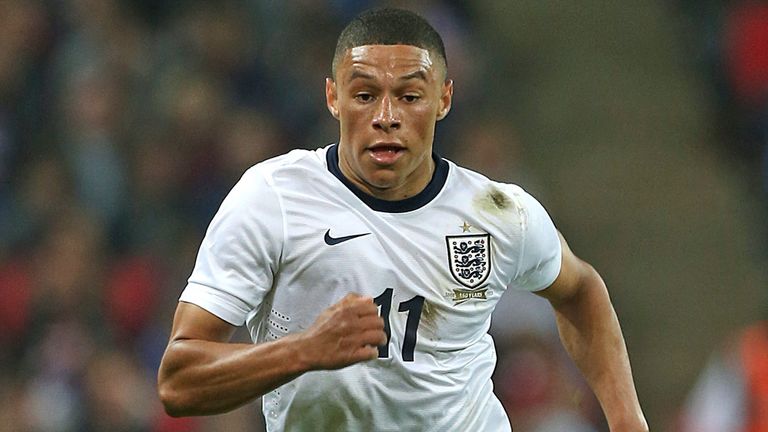 Roy Hodgson's side step up their preparations for this summer's tournament in Brazil when they take on the Danes at Wembley, with a squad of 30 players hoping to impress.
Just 100 days remain until the showpiece event kicks off and Oxlade-Chamberlain, who missed five months of the season through injury, is sure the fierce competition for places will bring out the best in the players as they look to book a spot on the plane.
"Whether I'm playing in centre midfield or out wide, it doesn't really matter. If I get picked, I just need to make sure I put in a good performance (against Denmark)," he said.
"As individuals, we don't pick the team but it's our responsibility to try and influence the manager's decision.
"Every one of us is trying to work hard for our clubs first and foremost and that feeds into England selection. As soon as you walk onto the pitch at Wembley, your heart's racing, the adrenaline's going. You just want to put in a good performance."
Oxlade-Chamberlain scored in a friendly at the Maracana last summer and admits he cannot wait to go back, if selected.
"Being able to go to Rio in the summer gave us a glimpse of what the World Cup will be like and how passionate everyone is out there for football," he added.
"It's going to be a great occasion. If would be my first World Cup if I was selected and it would be the first for a number of young players in our squad.
"The history that Brazil has with football; as a youngster you grow up watching Brazilian footballers. Football is written all over it and it would be a memorable World Cup."
Luke Shaw can stake a claim to make Hodgson's final cut after a first senior call-up and Oxlade-Chamberlain believes his fellow Southampton academy graduate is ready to deliver.
"It's really good to see the likes of Luke Shaw, Ross Barkley and a lot of the other young players here," Oxlade-Chamberlain added.
"I still consider Danny Welbeck and Daniel Sturridge as young players too. There really is a lot of young talent in the England squad at the moment, along with the likes of Steven Gerrard and the more experienced players. It's a really good mix.
"The young players coming through are a credit to the academies around England to the English league.
"Luke Shaw has been absolutely outstanding. As an 18-year-old, the maturity that he's been playing with and the consistency level he's been playing at is unbelievable.
"I've always known that Luke was a fantastic player. I've seen him come through the ranks at Southampton - he's only a few years younger than me - but he's shot up and grown physically.
"It's been a rapid rise for him but he's handled it really well. I speak to the Southampton lads and they all say how level-headed he's been."