Nicklas Bendtner frustrated at Arsenal during fight for Premier League title
Nicklas Bendtner has admitted his frustration at not featuring regularly for Arsenal this season.
Last Updated: 04/03/14 3:09pm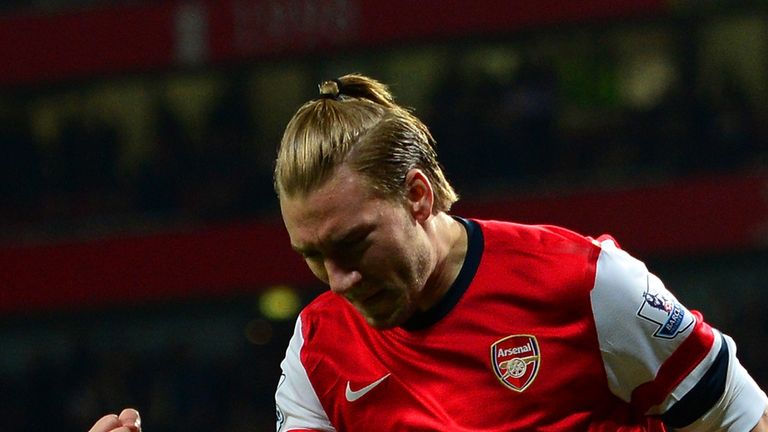 The 26-year-old striker has made nine league appearances so far this campaign and only one since New Year's Day.
However, Bendtner insists that he will carry on fighting for his place in the team and do everything he can to help the Gunners close the four-point gap to leaders Chelsea.
"It will be difficult," said Bendtner. "There are a lot of good teams, but I am sure we will be fighting to the end to win.
Bendtner is out of contract at the end of the season but the Dane has no intention of being anything other than fully focused for what could be his final few months at a club where he came through the youth ranks.
"I have been very positive. I feel I have shown every time I have played that I want to play there," said Bendtner, who could come back into contention for Arsenal's starting XI in the FA Cup quarter-final against Everton on Saturday.
"I don't think I have ever pulled my socks down and been like 'f*** this, I don't care', but I have played like I had a future there and I am going to continue doing that until the end of the season, then we might part ways.
"I will have no hard feelings. I have had a good time there, and if it does finish for us then I am going to be a bit upset, but that is football, that is life.
"You have to try to stay professional about it, and if I do get the chance to play, then I am an Arsenal player still and I will do everything I can to help the team, which is what I have been doing.
"It is hard, though, when you feel like you have something to contribute but do not have the opportunity.
"But I know the situation I am in and if that has an effect on why I don't play, then that is up to the manager."
"All I can do is keep myself available, it is then down to the manager to select who is playing."