Arsene Wenger hopes Svein Oddvar Moen will spot any Bayern Munich tricks
Arsene Wenger hopes referee Svein Oddvar Moen will spot any 'tricks' in tonight's clash with Bayern Munich.
Last Updated: 11/03/14 11:08pm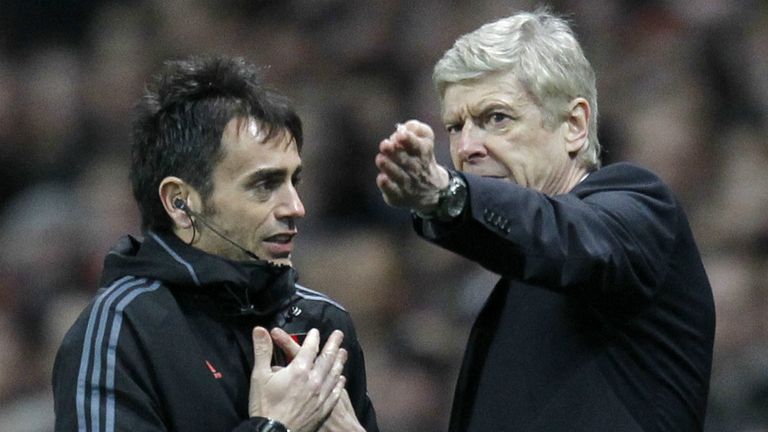 The Gunners head to the Allianz Arena looking to overturn a 2-0 deficit from the first leg last month, which saw goalkeeper Wojciech Szczesny sent off for what was deemed a professional foul.
It is not the first time Arsenal have found themselves on the wrong side of calls from officials in Europe.
Wenger watched his side play most of the 2006 Champions League final with 10 men, as well as having striker Robin van Persie sent off against Barcelona in the Nou Camp two seasons ago.
Midfielder Mikel Arteta also saw red in the last group game of the current campaign away to Napoli - a subsequent defeat which meant Arsenal finished runners-up and so were drawn against the holders.
The Arsenal manager hopes history does not repeat itself again on tonight when Moen, whose day job is an ambulance driver, takes charge.
The 35-year-old is one of the youngest officials with UEFA's top classification and in the Champions League this season he has handed out just six yellows and no reds.
"We have played a few times with 10 men in Europe and always under very special circumstances - in the Champions League final, now against Bayern," said Wenger.
"When we played at Barcelona when we were in a position to qualify, it was a second yellow card and the only time I have seen that since I (have) watched European football, when (Robin) van Persie was sent off (for kicking the ball away), so I hope we get a fair chance to play with 11 against 11 until the end."
Manchester City boss Manuel Pellegrini was handed an immediate two-match touchline ban by UEFA for claiming Swedish official Jonas Eriksson was "not impartial to both teams" after the 2-0 home loss to Barcelona.
Pressure
Wenger believes match officials at this level should be able to handle the occasion.
"What we want is a good referee and the closer they are to the tough leagues, the more chances they have to detect the tricks that can decide the game. But that is the same for Bayern, because I talk about my players and the Bayern players," the Arsenal boss said.
"What I mean sometimes is that when you come from a league that is less pacey...I don't know.
"Honestly, I never look at the referee before the game. I never have any preconceived ideas.
"Sometimes when referees have big experience it helps them get out of tricky situations.
"I think you do not want players to stay on the pitch who deserve to be sent off, but as well you do not want games to be killed, or the interest of the game to be killed, for reasons that are tricky.
"To find that kind of balance, the experience of the referee is important."