Premier League: Per Mertesacker says Arsenal will know fate by end of month
Arsenal defender Per Mertesacker says the rest of March will be pivotal in their hopes of success in the Premier League.
Last Updated: 16/03/14 3:19pm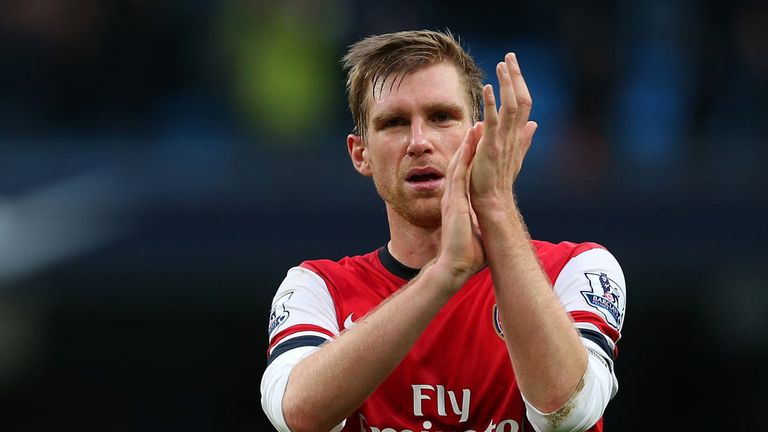 The Gunners have four more league games to fit in before the end of the month with north London rivals Tottenham first up on Sunday afternoon at White Hart Lane.
After that comes a clash with leaders Chelsea at Stamford Bridge and a home game against Manchester City in a fortnight's time, that game following a clash with struggling Swansea.
Getting to the end of March in a healthy position would leave Arsenal with a chance to kick on to the end of the season, with their run-in looking much easier and including an FA Cup semi-final against Wigan at Wembley.
"These are all decisive games," Mertesacker told Sky Sports' Weekend Warm-Up. "There are no points to drop anymore. They are vital games and we are up for it.
"I think it's up to us as to how close we can stay to the top. We have to concentrate on ourselves and we have to stay as close as possible to the top and that's the most important thing to us.
"It depends entirely on our finish; how we cope with the situation of our injured players and the situation that we have another chance in the FA Cup.
"We have two competitions left and if we can manage to finish like last year with strong performances I think we have a good chance to compete in both competitions until the end.
"It would be great for me to achieve something this season. The hunger is there and the hunger is increasing.
"We went through tough periods this season and last season, but overall we have shown great spirit and great togetherness. So let's get something out of this season that's what we have to deal with."
Mertesacker recently signed a new long-term contract with Arsenal, which he feels might be his last, and he is convinced he will taste success before his career comes to an end.
"I am very happy. This was a good opportunity for me and for the club to show how committed we are to each other," he added.
"(Staying for the rest of my career) is a target. That's what I am trying to show with this deal. I'm at an experienced age and I think that is going to be my last contract."
Watch the north London derby between Spurs and Arsenal live on Sky Sports 1 on Sunday from 4:00pm.