Tottenham's Emmanuel Adebayor says pressure gets to Arsenal ahead of North London derby
Emmanuel Adebayor does not think Arsenal can handle pressure and has urged Tottenham to take the fight to the Gunners.
Last Updated: 16/03/14 3:17pm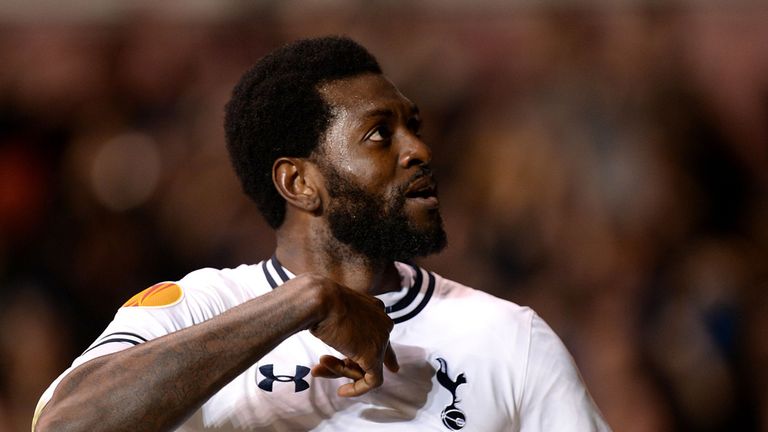 The capital rivals lock horns at White Hart Lane this weekend in a vital clash for both sides, as Spurs look to keep their top-four hopes alive and Arsenal strive to stay in touch with Premier League leaders Chelsea.
Adebayor played for Arsenal for three years and admires the way Arsene Wenger's team play, but believes there are weaknesses that can be exploited due to a lack of tenacious midfielders.
He told the Daily Mirror: "Arsenal are a good team when they have the ball. When they don't, they are not that good. When you put them under pressure, they can't handle it.
"They don't have a lot of physical presence. Apart from Flamini, I don't see anyone who puts themselves into a proper battle.
"Rosicky is not that type of player, Cazorla is not the type of player who defends. Arteta is trying to do it, but that's not his job.
"They don't have anybody who can say, 'if I have to kick, I will kick. If we have to fight, I will put myself at the front of it'. That's how we have to play. Push them and force them to make errors."
The character of some of Tottenham's own players has been called into question by boss Tim Sherwood after a couple of demoralising defeats this week, with a 4-0 drubbing at Chelsea followed by a 3-1 loss at home to Benfica in the Europa League.
Adebayor accepts that Spurs have not shown enough hunger in certain games, but says there will be no problem with motivation on Sunday.
He said: "In some games, some players, including me - I have to include myself - we have lacked that personality. We have lacked that desire and things have gone wrong.
"That's why we have to look into the mirror and say, 'OK, I judge myself, I didn't play well today, but in the next game I will be better'.
"On Sunday I don't even think we will need a team meeting.
"There are some games where you have to give a little bit of motivation to the players. But we know how good we are at home when it comes to Arsenal and we won't have to motivate anybody for this game."
Adebayor added: "The is the game that everybody will be talking about in London from this point," said the striker, "Tottenham v Arsenal: The north London derby.
"So I cannot see anybody telling me, 'Manu, you have to run. You have to give 100 per cent'.
"No one will need to tell me that. I know. And people like Aaron Lennon, who has been here for ages, you won't have to tell players like him anything either. He knows how big it is for the club and the fans. To be honest with you, we are all looking forward to it."
The great sport keeps coming during Magnificent March. Here are some of the highlights you can enjoy with Sky Sports.