Premier League: Mathieu Flamini hails Arsene Wenger and eyes domestic double
Mathieu Flamini has hailed Arsene Wenger and believes the Gunners can land the domestic double.
Last Updated: 22/03/14 12:19pm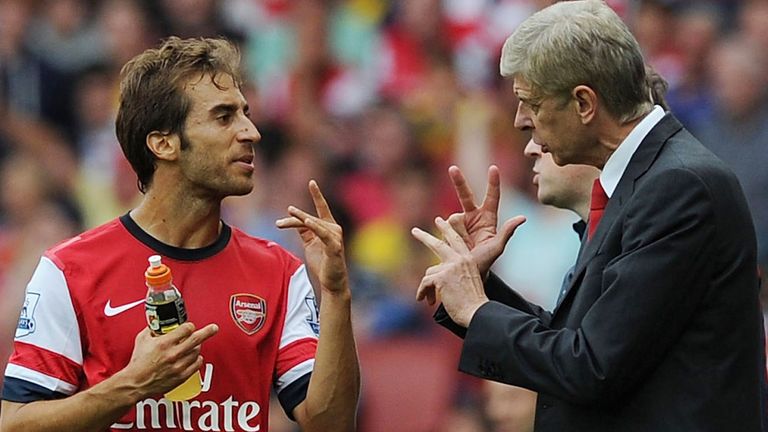 Wenger took over in the dugout at Arsenal in 1996 and will reach his landmark 1,000th game in charge in the crucial title six-pointer against Chelsea on Saturday.
Flamini, who is now in his second spell under the French tactician, insists Wenger has stayed true to his principles and the Gunners can finally win some silverware to end a trophy drought stretching back to 2005.
He told the Daily Mirror: "It's an unbelievable achievement. He means so much to the club for the achievements he has done until now. Congratulations to him, first of all.
"I think it's someone who knows exactly what he wants. He has a vision since the beginning, he's moved to Arsenal and he still has the same one. He know exactly how he wants to play. That's remarkable.
"He's not really changed, he's still the same person. He had a philosophy before and he still has the same ones, that's why it's so easy for me to come back and to find my place in this team.
"They were playing a certain football before and they still play the same. The focus is on small passes and high pressing and to attack. At Arsenal the football is focused on attacking and playing nice football.
"His philosophy was exactly the same - his style, his management and desire to win."
Sprint
The Gunners are still in with the chance of landing a domestic double, which Wenger has achieved twice before, in 1997-98 and 2001-02, while he last won the Premier League in 2003-04.
Flamini added: "We have a few more games to come which are not easy, because Chelsea and Manchester City are also fighting for the title.
"In the title race, it's very important not to drop any more points because it's not a marathon now it's a sprint. We have a few more games and we want to win every single one.
"The Premier League is one of the objectives but we still have the FA Cup and we really want to make something of this competition too.
"It's a great opportunity, everyone is waiting for Arsenal to win a title and everyone is talking around the club that Arsenal haven't won a title for a while. It's a great opportunity for us and it's in our hands and I can assure everyone we will do everything to go through and win it this year.
"Both competitions are very important for us. Winning titles is very important for every single player, the management team and the fans. We will fight and give everything to win a title this season.
"I'm focused on our team. The Premier League is very competitive, it's a very open championship and that means every single point is important.
"I would love to win a title, it means so much to the players, to the manager and the fans. We believe we can do it, we will give everything to do it."