Former referee Dermot Gallagher reckons Andre Marriner has paid a high price for lacking attention
Andre Marriner paid the price for losing attention when he wrong dismissed Kieran Gibbs, according to Dermot Gallagher.
Last Updated: 24/03/14 12:28pm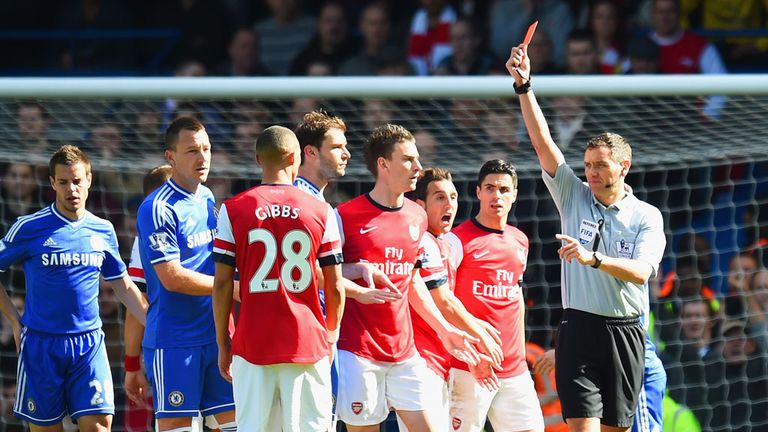 The match official was at the centre of controversy when he wrongly dismissed Arsenal defender Kieran Gibbs, after team-mate Alex Oxlade-Chamberlain had handled Eden Hazard's shot at goal.
From the correctly awarded penalty on 17 minutes, Chelsea scored their third goal, but most of the talk after the game was about the mistaken identity on who handled the ball.
Marriner has since apologised to Gibbs for making the wrong call, and Gallagher has much sympathy for the referee.
Gallagher said: "I think it happened because of a bit of a lack of concentration at the time.
"In that situation the referee doesn't need to worry about whether it is a penalty or whatever, once he's blown his whistle he just needs to isolate the player and go towards the player. That's really what didn't help Andre at the time.
"If he had just gone through the play, just move through play towards Alex Oxlade-Chamberlain, isolated him, it wouldn't have occurred. But it's easy sat here now saying that, in the heat of battle he's lost concentration a little bit, he's been surrounded by Chelsea players wanting a penalty and it's just come about that the players have crossed over and he's identified the wrong player.
"One thing I would say, the game was stopped and you have a little bit of thinking time. When Alex Oxlade-Chamberlain came and said: 'you know it was me', that might have been a chance to go to his assistant or go to the fourth official and say: 'I've got this information, can you talk me through it?' They might still come to the same conclusion, but at least they would have been seen to be pulling all the information available.
"As it was, Andre stood his ground and he said: 'I believe it was Kieran Gibbs, as we've seen incorrectly, and he's sent him off. In his mind he is sure. He thinks that's correct and he's acted on it."
Marriner is likely to drop off the Premier League list after his high-profile mistake, but Gallagher reckons there should be no knee-jerk reaction over the incident.
"The decision is made a bit easier in that referees are at a training camp today so it is a great opportunity to sit him down and see what condition he is in. I spoke to him last night about how he is personally and he is absolutely heartbroken.
"I heard some bizarre comments yesterday saying he should be banned until the end of the season and for me that is utter tosh. It would do him no good and it would do the referees no good. No matter how long he may be away it will still always be there for his first game back."
Elsewhere in the Premier League over the weekend, Chris Foy was back in the spotlight after the referee awarded a penalty to Hull City in their 2-0 win over West Brom.
Former Albion striker Shane Long tumbled under close attention from Craig Dawson and, despite attempting to continue with play, was given a penalty.
Gallagher reckons the decision was a tough one for Foy, but concedes the match official got his call wrong.
"I don't think it was a clear cut penalty, but from the referee's point of view it certainly looks one," Gallagher said.
"Shane Long was up very, very quickly. I think when a player is on the ground it is much easier to give a penalty than if he stays on his feet."