Podolski option
From his days as a teenage sensation at Cologne to his current career at Arsenal, Lukas Podolski has little experience of regularly playing as a lone, central striker. But, such is the current state of affairs, there are calls for the Germany international to be given a chance...
By Peter Fraser - Follow me on Twitter @SkySportsPeteF
Last Updated: 28/03/14 4:30pm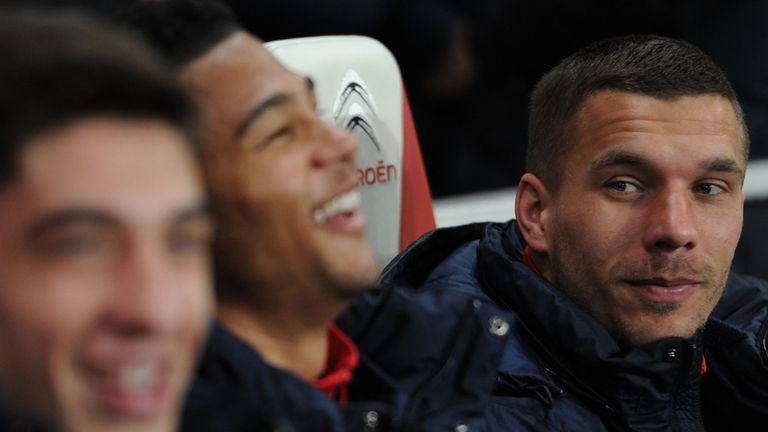 The inquests are becoming more scathing as Arsenal's Premier League season - predictably, some might say - continues to unravel. Critics around the land are seemingly taking pleasure in saying, 'I told you so' as Arsene Wenger's plans are being reduced to tatters.
Accusations are focusing on the Frenchman's failure to build a squad with the depth capable of competing throughout a season, whether he still has his finger on the pulse of modern football and if, after 1,001 games, he remains the man to lead the Emirates Stadium club in the future.
Strength in Arsenal's squad is not so much a problem; it is that lack of depth which has been devastatingly exposed - most recently in Tuesday's 2-2 home draw with Swansea City in the wake of last weekend's humiliating 6-0 thrashing at Chelsea. It means the Gunners are now worrying about a place in the top four never mind challenging for the title.
The misfortune of losing five players of the significance of Mesut Ozil, Aaron Ramsey, Jack Wilshere, Theo Walcott - all members of Wenger's first-choice midfield - and, now, centre-back Laurent Koscielny to injury would test any team in the league. But that is still no excuse not to have a contingency plan - particularly given that more than one of those players has a history of injuries.
Another long-since debated deficiency in Wenger's squad, who could yet still win the FA Cup as some sort of season salvage, has been the failure to acquire additional strikers to supplement Oliver Giroud as the Frenchman has grown tired and struggled with problems in his personal life in the second half of the season. The failed attempt to sign Liverpool's Luis Suarez last summer was not followed by a genuine alternative target, with Yaya Sanogo arriving as an inexperienced option while existing squad member Nicklas Bendtner is far from in favour.
That has led those with the benefit of hindsight to suggest Lukas Podolski should be playing as a central, lone striker to give Giroud some relief and the German's goal and assist for his French club-mate as a second-half substitute in the otherwise hugely-disappointing draw with Swansea will have only added weight to the argument.
However, ahead of Saturday Night Football's meeting with title-chasing Manchester City, are calls for Podolski to play as Arsenal's individual frontman a sign of common sense or desperation?
Since joining Arsenal in the summer of 2012 from Cologne in an £11million deal, Podolski has not entirely lived up to the excited expectations which met his signing - despite scoring 16 goals in his debut campaign. The problem last season was that Podolski performed more in sensational bursts than any sort of steady, consistent form - perhaps rebuilding confidence after some disappointing individual displays for Germany at Euro 2012.
Podolski, who, it should be remembered, became the youngest European player in history to earn 100 caps during that Euro 2012 tournament, has generally played on the left of Arsenal's attacking three, with only occasional appearances through the middle. That has become a norm in the now-28-year-old's career.
He had started his professional playing days as a teenager at Cologne as a central striker but usually operated in the No.10 support role rather than as the leading forward. He then also played in a similar position in his disappointing time at Bayern Munich between 2006 and 2009. The general opinion in Germany is that he has since been shifted to the left wing, as was the case when he returned for a successful second spell at Cologne - when he scored 33 goals in 88 Bundesliga games, as a result club managers following the lead of national team boss Joachim Low. Germany's manager had decided to start using him on the flank owing to the stronger central options at Germany's disposal over the years, such as Mario Gomez.
Podolski has since mainly specialised in being a scorer of great goals rather than a great goalscorer at Arsenal, particularly a volley against Montpellier which was named his club's best goal of 2012/13. And that is where Wenger's doubts perhaps exist about using him as a different option to Giroud as Arsenal's lone striker. Does the Polish-born German have the physical attributes, skill and also the discipline to operate as a solitary frontman in a 4-2-3-1 formation?
Working as a lone striker is so much more than playing with a free licence and scoring spectacular goals; there is a necessity to play a role for the team.
Podolski's lack of tactical discipline has already been exposed in wide areas, where, although he thrives in the attacking space and can drift into the box at the back post unmarked, he often abandons his defensive duties and leaves his full-backs exposed. A lone striker is required to run the channels, give his team-mates a passing outlet, track back and hold the ball up as well as putting it in the back of the net. All of that requires discipline.
At the same time, though, Podolski's lack of tactical nous and defensive responsibility is an existing argument for using him as the central striker - where he would do less damage to his team in their defensive play. The 28-year-old has contributed just 0.6 tackles per game in his 13 Premier League appearances this season, which is only more than Walcott among any Arsenal outfield players who have featured in 12 or more games. Podolski has also contributed just 0.2 interceptions per game in the 2013/14 league, which is only more than Bendtner.
There can be no argument about the goalscoring threat posed by the brutal left foot of Podolski. In his seven league starts this season, a total which has been impacted upon by the four months he missed between the end of last August and December with a torn hamstring, he has scored four goals at a shooting accuracy of 66.7 per cent and shot conversion rate of 33.3% from 12 attempts.
In the same number of Premier League starts this season, only West Bromwich Albion's Saido Berahino has scored an equal number of goals as Podolski, who, admittedly, has the benefit of playing in a more successful team. Podolski is also in the top 10 in the league for shooting accuracy among players who have had 10 shots or more, while his shot conversion rate among that same group ranks him as the fourth best in the top flight.
Podolski, though, is not an out-and-out goalscorer and cannot lead the line. If Wenger was prepared to revert to a 4-4-2 formation and use his No.9 as a supporting partner for Giroud, or even Sanogo, whom would benefit from an experienced strike partner, that could be a workable option. But even that idea is not overly encouraging given that Podolski's assist for Giroud against Swansea was only his first of the season while his 0.3 key passes per game average is an equally unimpressive total.
Anything other than using Podolski as a secondary striker would surely represent little more than a stop gap. Perhaps, in a one-off match, he could play as a leading striker. But this weekend's visit of a team of the strength, dynamism and power of City will be no place to experiment with such a gamble. The argument for Podolski as a lone, central striker - a position with which he is unfamiliar and inexperienced regardless of his shooting skills - only further underlines the shortcomings of Wenger's squad.