FA Cup: Arsenal boss Arsene Wenger admits every team can dream of winning trophy
Arsenal manager Arsene Wenger believes there is a special appeal about the FA Cup as he prepares to tackle Wigan.
Last Updated: 12/04/14 5:29pm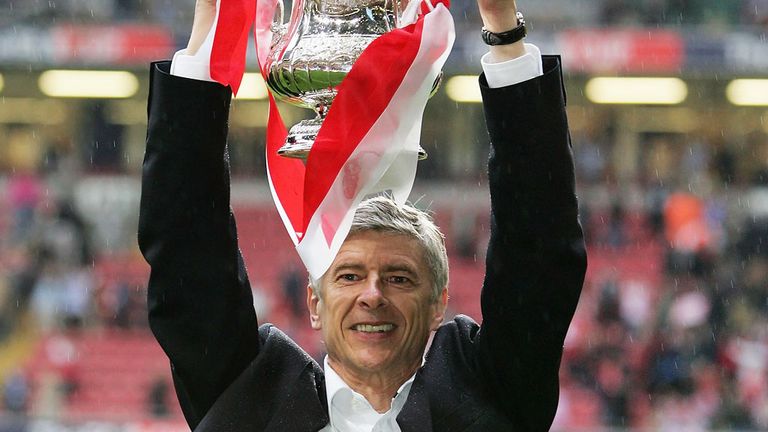 While the priority for top flight clubs is strong performances in the Premier League, Wenger concedes only a few teams can claim the top prize in English football.
Wenger last enjoyed success in the FA Cup in 2005 when Arsenal beat Manchester United on penalties at the Millennium Stadium, the club's last piece of silverware.
But Arsenal are favourites to lift this season's FA Cup and are expected to see off current holders Wigan in Saturday's semi-final at Wembley.
The winners of the tie will play Hull City or League 1 Sheffield United in the final next month, and Wenger reckons that scenario is part of the tournament's attraction.
"If you are in the FA Cup everyone can dream of winning it at the start of the season, while the championship - only seven clubs can dream of winning it," Wenger said.
"Last year Wigan won the FA Cup, this year you have Sheffield United in the semi-final and that kind of dream open to everybody makes the competition special.
"In the championship you can talk and talk, but we know the biggest budget will win it; that open dream is what makes this competition special in football.
"In basketball if you play against a team from Division Two, there is absolutely no chance unless you give them 30 points, only in our sport can create that excitement because it is uncertain."
Wenger was accused of being a 'specialist in failure' by Chelsea counterpart Jose Mourinho earlier this season as the pressure was ramped up in the Premier League title race.
The Gunners have since fallen out of the picture for top-flight glory, but Wenger insists he still has a determination to secure silverware.
"Don't imagine I sacrifice every day of my life not to win a trophy. Everybody fights for that," he added. "We all play to win something."
With Wigan likely to be on the defensive for large periods against the Gunners, Wenger has admitted that Arsenal's 2005 FA Cup triumph came against the odds.
"In fact in 2005 we did not deserve to win the final," he added. "Being defensive was the only way we could win it.
"At the start I didn't set up like that and suddenly they were all over us and I realised that physically we were not able to compete, so I said 'ok let's defend as long as we can'."