Premier League: Thomas Vermaelen tells Arsenal to forget the FA Cup for now
Captain Thomas Vermaelen has ordered his Arsenal team-mates to forget about their FA Cup final with Hull - for now.
Last Updated: 19/04/14 2:23pm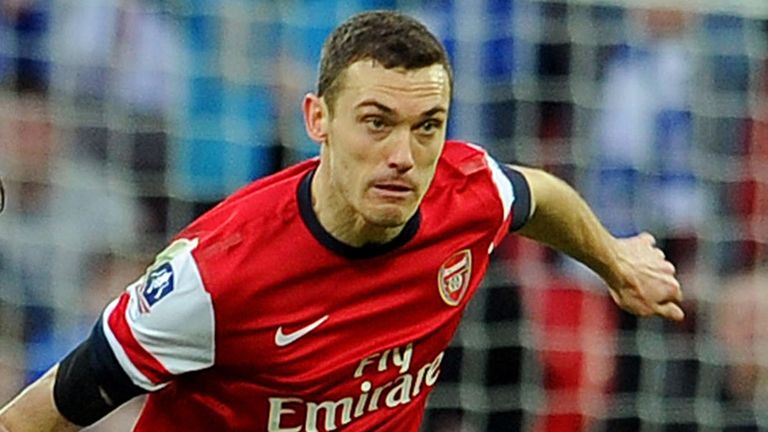 Arsenal travel to their Wembley opponents on Easter Sunday chasing three points to boost their bid to secure Champions League football next season.
The match was moved back 24 hours to help Chelsea's Champions League semi-final preparations - in what is a crucial match in their quest to secure a top-four finish, a pursuit which was boosted by Everton's shock 3-2 home defeat to Crystal Palace on Wednesday night.
Vermaelen told the matchday programme: "We will play Hull in the FA Cup final, but there is no point looking to that game yet.
"We have made it there which was our target, but we want to finish the job on May 17.
"We have a cup final to look forward to, but we have a massive job to do in the league before that so let's forget about the FA Cup for a while and go from game to game in the Premier League.
"We have to look at ourselves, not worry about the other teams and just try to win our games.
"Every single game is really important, now it is always a vital game - that is what playing for a big club like Arsenal means and that is what we want.
"We want to get some momentum going for these league games also I think we will get some players back over the next few weeks, so hopefully we can finish the season well with a strong squad."
Wenger also feels Arsenal cannot allow themselves any distractions as they look to nail down a top-four finish.
"We are completely Premier League now until the FA Cup final," the Arsenal manager said.
"Hull have done well at home, so we know that for us a big performance is needed."
Despite now finding themselves back in the driving seat, with only a one-point lead, there remains little margin for error if Arsenal are to stay ahead of Everton over the run-in.
Wenger believes Arsenal can use the demands for results to their advantage.
"Pressure is positive because you play for something," he said. "When you play for something it is a challenge but as well a great opportunity to do well and that is what we live for."