Arsenal's Aaron Ramsey hails quality of Liverpool's PFA award winner Luis Suarez
Arsenal's Aaron Ramsey has hailed the quality of Liverpool striker Luis Suarez following his PFA Player of the Year win.
Last Updated: 28/04/14 5:14pm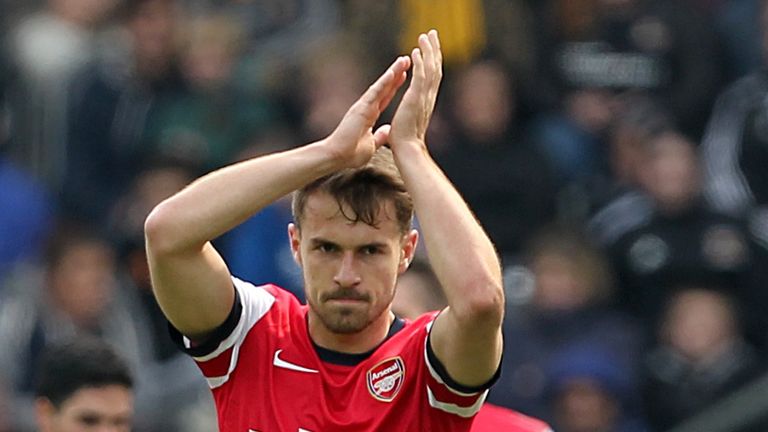 Suarez, who was beaten to the accolade by Gareth Bale last year, has been a key part of Liverpool's title challenge this season, netting 30 goals in 31 games.
The Reds ace was in attendance at the Grosvenor House to collect his award, voted for by his fellow professionals.
And Ramsey, who lost out to Chelsea's Eden Hazard for the Young Player prize at the ceremony in London on Sunday night, believes Suarez has all the hallmarks of a great player.
"His quality is there for everybody to see," Ramsey told Sky Sports News. "He's just a magnificent player.
"When you think he missed the first five or so games of the season and to score the amount of goals that he has. He's one of those strikers who loves to work hard as well and work for the team."
Suarez was forced to miss the start of season due to his ban for biting Chelsea defender Branislav Ivanovic 12 months ago spilling over into the current campaign.
Former Liverpool midfielder Ray Houghton claims Suarez is now a reformed character and insists fans in England are fortunate to have such a talented individual playing in the Premier League.
"Overall, I think he has really changed his way of thinking on and off the field," Houghton told The Monday View.
"I think he is very happy in his surroundings at Liverpool Football Club. I hope he's here for the foreseeable future because he is a fantastic talent and what we don't want to see in English football is letting our best players go.
"We want them here, we want to see them every week and performing to the level that we have seen Suarez perform at. I think undoubtedly he's been the best player in England this season."