Theo Walcott says winning the FA Cup could prompt regular Arsenal silverware
Theo Walcott says winning the FA Cup could prompt the return of regular silverware to Arsenal's trophy cabinet.
Last Updated: 30/04/14 12:28pm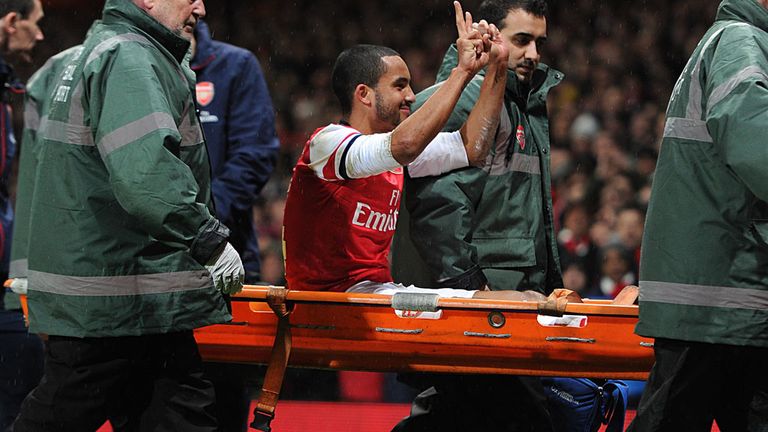 Walcott ruptured the anterior cruciate ligament in his left knee during the Gunners' FA Cup third-round victory over Tottenham at the Emirates in January.
The injury ruled him out for the rest of the campaign - and out of the club's challenge to end nine years without a trophy - as well as England's World Cup campaign.
"I think next season will be a massive one for myself and the team," said Walcott, whose side face Hull in the end-of-season showpiece at Wembley on May 17.
"If we win the FA Cup, which we have a great chance to do with the way we are playing, the players are going to want more trophies.
"I think the first one is so important - once you win that, you'll win more and more. I'm pretty sure of that.
"It would be great for the boss to win a trophy again, too. He's shown so much belief in us throughout the years. If we don't play well, he always reflects it back on him, even though it's our job to go out there each week and try to perform.
"That just shows how much faith he has in us all and it's really important to him. The years just before I arrived here were unbelievable and he wants that again."
Arsenal were a point above Manchester City at the top of the Premier League when the 25-year-old suffered his injury on January 4 but the winger felt the absence of other key players was just as damaging to the club's title aspirations.
"Losing Aaron (Ramsey) and then Mesut (Ozil) and Jack (Wilshere) soon afterwards, the boss admitted it was difficult for us to cope," he said. "If you take three main players out of a team, it's going to affect you.
"It was sad for everyone to get injured around the same time but you deal with that as a squad. You want to try and keep your main players fit and sadly we couldn't."