Aaron Ramsey hopes Arsene Wenger signs Arsenal deal soon
Aaron Ramsey has pleaded with Arsene Wenger to end any lingering doubts over his long-term future with Arsenal.
Last Updated: 03/05/14 12:40pm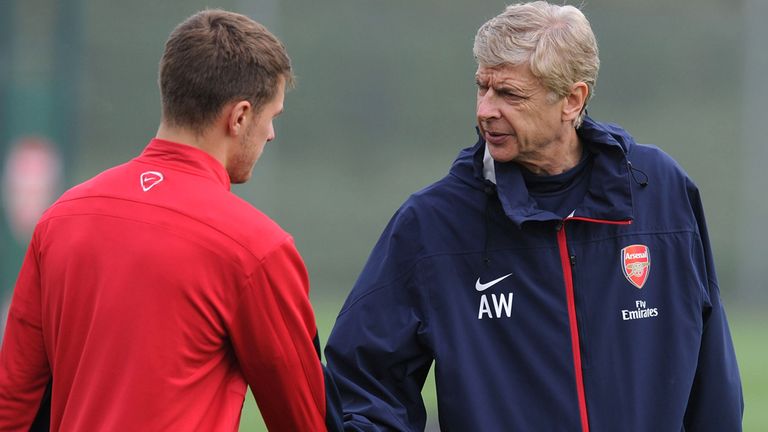 Wenger promised earlier this week he would be signing a new contract to extend his partnership with the Gunners beyond the end of the season, when his current deal expires.
Ramsey's admiration of the Frenchman is clear, having been given public backing when he was struggling for form, and he has thanked Wenger for his belief in him.
"Obviously he has been a big influence in my career so far so me and the rest of the team want him to sign his contract and secure his future and help this team," Ramsey told the Daily Star.
"He believes in us and we believe in him. We feel like we have a lot of quality in the team to go on and have many successful years."
The Wales midfielder has also hit back at claims made by former Manchester United star Paul Scholes that the Gunners lack character, fight and discipline.
"It was a bit strange," Ramsey said of Scholes' outburst. "This season we have been solid defensively.
"In our four games against the teams at the top we've conceded 20 goals. If you cut them out we would have conceded just 21 goals.
"So we are defensively as a team much stronger now and feel a lot more comfortable with our defensive roles. We feel we are improving now.
"There are a lot of leaders in the team, who are hungry to win. Mikel (Arteta), Per (Mertesacker), and people like myself, Jack (Wilshere) and (Lukas) Podolski - all of us are very passionate and leaders on the pitch who help each other.
"I think it is just because we haven't won anything for a while and people are just looking for things to say. Sometimes things just come out of your mouth."