Arsenal's Abou Diaby happy to be back after conquering doubts about his future
Abou Diaby has admitted he did think about quitting football during his injury lay-off but now hopes to face Norwich.
By Patrick Haond
Last Updated: 05/05/14 4:08pm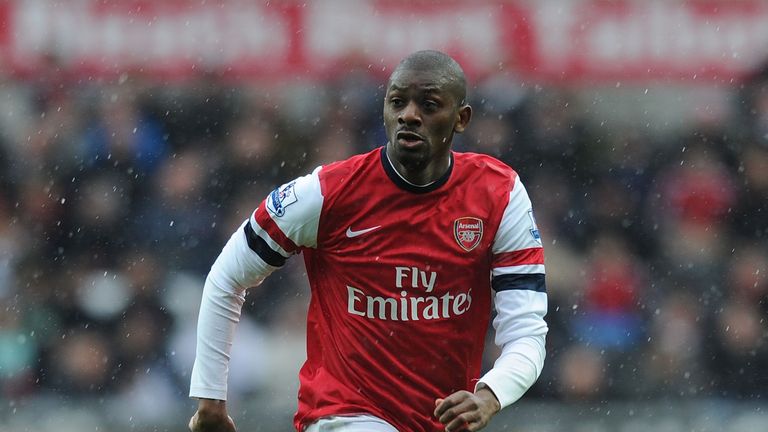 Diaby has been plagued by injuries throughout his career and his latest knee problem has kept him on the sidelines since March 2013, but he resumed training a few weeks ago and was an unused substitute as the Gunners beat West Bromwich Albion 1-0 on Sunday.
He admits he was desperate to get on the pitch but is just pleased to be back available again and hopes to feature before the end of the campaign.
"I would have loved to play 10 minutes this weekend," the midfielder told L'Equipe.
"I was counting substitutions: one, two, and three. There was big desire. I am ready. Anyway I am already happy to have reached this point."
Reflecting on his time out, Diaby has revealed that he was so frustrated that he wondered if he would ever return, but a positive outlook kept his mind focused and he feels he can carry on for several more years.
"It has been the longest absence of my whole career," he explained. "You ask yourself if you are still a football player.
"You think about giving up. I told myself: I am fed up. I quit!
"I talked to my parents, brothers, sisters and friends. Then, one day I woke up: no, out of the question to quit.
"I am a believer and in my belief despair doesn't exist. Moreover, I am only 28-years-old. I still have five, six years remaining, maybe more."
Diaby's immediate aim is to play against Norwich City on Sunday and he would then love Arsenal to win the FA Cup final against Hull City.
He admits it is unlikely he will be risked by France for the World Cup but is not giving up hope that Didier Deschamps could take a chance on him.
He said: "My current objectives? Playing for the last Premier League day. And if my dark season could finish with a win in the Cup final, it would be wonderful.
"World Cup? There are two matches remaining, so you have to be realistic. But if I could be the 23rd player on the plane to Brazil... I am dreaming about that."