Jack Wilshere clears air with Paul Scholes over criticism - but admits Manchester United legend was right
Jack Wilshere says he has cleared the air with Paul Scholes after the Manchester United great questioned his progress.
Last Updated: 15/05/14 10:22am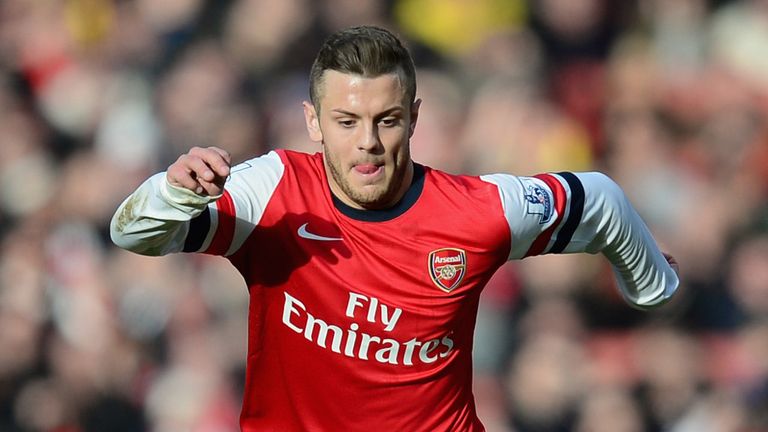 Scholes spoke out during a pundit's appearance on Sky Sports in March, claiming Wilshere is no better a player now than he was when he broke into Arsenal's first team as a teenager.
The criticism hurt Wilshere, now 22, and the England midfielder tracked down his idol for an explanation.
He said: "It was a bit strange, out of the blue," he said. "I remember watching it, he was having a go at Arsenal, and I was thinking 'Is he going to come for me?'
"I actually spoke to him after. We had quite a good chat. He is entitled to his opinion but I just wanted to know.
"If it had come from a rubbish player I could say 'what are you talking about?' But it came from Paul Scholes.
"So I wanted to get to the bottom of it. I spoke to him, he explained it a bit better and told me what he thought I should work on. For me he was the best English midfielder of all time."
Wilshere missed the whole of the 2011/12 season through injury and has only recently returned from a broken foot.
He said: "Scholes was right in a certain way. When I first burst onto the scene there was all this noise and then I got injured.
"I have had bad luck with injuries but I can't keep saying I've been injured a lot. There comes a time when you stop being a kid and I think that's what he's referring to. 'He's young, he's got all this potential ' - you have to start putting that potential in.
"This season I have improved a lot, scored a few more than I have in the past and got a few more assists. That side of things, you can keep the ball and you can look good but it's those stats that matter. That's what I have to build on."
Scholes also criticised Arsenal as a whole for a lack of discipline, characters and leadership - traits they will need this weekend in the FA Cup final against Hull as they seek a first trophy since 2005.
"We've been here before in the Carling Cup," Wilshere said.
"No disrespect to the Carling Cup but this is bigger than the Carling Cup. The FA Cup is a trophy that, when I grew up, you remember.
"We don't have to prove we have leaders to win this - we just have to win it."