FA Cup: Jack Wilshere dedicates Arsenal's Wembley win over Hull City to the fans
Arsenal midfielder Jack Wilshere has dedicated the club's 3-2 FA Cup win over Hull City to the supporters.
Last Updated: 18/05/14 3:23pm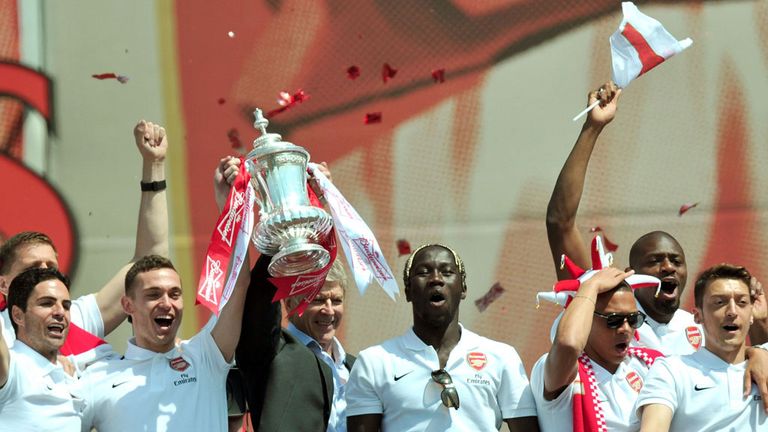 Arsenal fell behind to early goals from Hull's James Chester and Curtis Davies in the Wembley showpiece, only to get back on level terms during normal time through Santi Cazorla and Laurent Koscielny.
Aaron Ramsey scored during the second period of extra-time to ensure Arsenal clinched their first trophy since 2005 and Wilshere lauded the character demonstrated by his team-mates.
"It's hard to put into words (what this victory means to me). It's been nine years now - we've waited a long time for this," Wilshere told Sky Sports News.
"We've worked hard and the manager has worked hard but most of all this is for the fans who fill the stadium every week. This one is for them.
"It was a bad start. We've done that a few times this season and been punished but we knew if we got a goal before half-time we could go on and win it. We're a fit team and we've got quality as well. That's a good mixture and we showed that.
"We had a hard run (in the competition) as well so you can't say that we didn't deserve it. We showed the character that we've shown all season in the final and fair play to the boys."
An estimated 250,000 people lined the streets of north London for the trophy parade which Arsenal left-back Kieran Gibbs believes illustrates the size of the club.
"It's something very special and I can't believe how many people are here," he said. "It just reiterates how big this club is and how important it was for us to win yesterday.
"Now that we have got the first hurdle out of the way hopefully it will give us a boost for the seasons to come. We've shown character for the last couple of years but yesterday was a testament to the players.
"We overcame a big hurdle and we're very proud of that. We're very proud of how far we came in the competition and we did it for all these people."
Wilshere replaced Mesut Ozil at the beginning of the second period of extra-time on Saturday, but the 22-year-old allayed fears he may be a fitness concern for England ahead of this summer's World Cup.
"I'm feeling fresh," he said. "It was nice to get on and I just wanted to be part of it. The boys done well and it was easier for me to come on with 15 minutes to go."
Meanwhile, Sky sources understand an announcement is expected from Arsenal in the next few days confirming manager Arsene Wenger has extended his contract with the club.
The 64-year-old paid tribute to the players and the supporters after equalling a club-record of five FA Cup for Arsenal.
"Our players are great but our fans are even greater and they have shown that again today," the Frenchman said.
"On behalf of everybody at the club I would like to thank all the fans very deeply. We realise how much they love our club and we are grateful for that.
"We had to fight very hard but this group of players have shown great mental strength through the whole season.
"They've gone through some difficult times and they've always recovered, responded and I think the club can be very proud about what they've achieved this season."