David Seaman says Arsenal need two quality signings in midfield and attack
David Seaman believes Arsenal need to make two "quality" signings this summer to build on their FA Cup success.
Last Updated: 22/05/14 3:08pm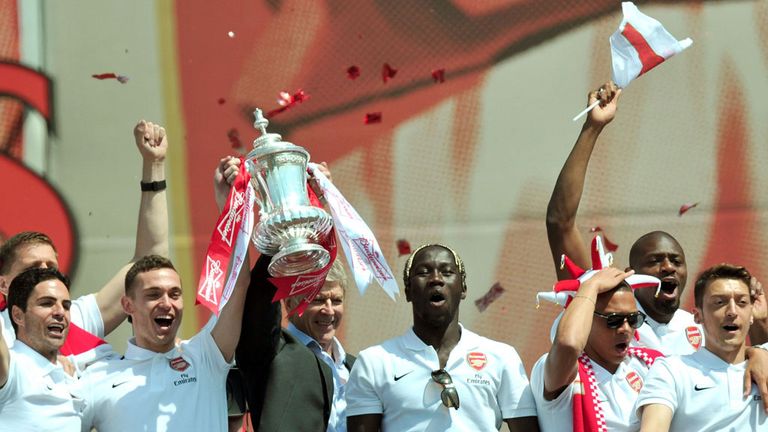 Seaman was at Wembley last weekend to see Arsenal end a nine-year wait for silverware with a 3-2 extra-time victory over Hull City in the FA Cup final.
It was the first major trophy the Gunners had lifted since moving to Emirates Stadium and Seaman hopes it will be the first of many more for his former club.
He told Sky Sports News Radio: "I was at the game and after 10 minutes, I've never felt like that before watching football, I just could not believe what was happening.
"We were getting outplayed, Hull were creating chances and could have made it 3-0 a couple of times. I was thinking 'no, not today in the cup final'.
"It wasn't until Arsenal scored the first goal that I settled down a little bit. The more the game went on they were in control, had a lot of possession and then when they got the winner, what a relief.
"The shackles are off. That nine-year wait is now gone, the Emirates has now got a trophy, the players have now got winners medals.
"Let's see how many more we can get because it's one of the best feelings in football when you win trophies and you win medals."
Seaman is delighted that Arsene Wenger appears poised to sign a new contract but believes the Frenchman needs to add two more quality players to his squad over the summer if the Gunners are to continue to progress.
He said: "Once you've worked with Arsene you realise how good he is. He knows everything about the game. He is that good and I would hate to see him leave Arsenal.
"A lot of people two months ago were calling for his head but I was praying that he didn't leave because I know how good he is.
"I think they need a striker because (Olivier) Giroud almost carried the team on his shoulders up front on his own.
"Luckily this season he wasn't injured much and had a big part to play, but they need a new striker and they need a more dominant midfield player, a Patrick Vieira type or a Yaya Toure type.
"They only need one or two, but one or two quality signings because we saw the effect that (Mesut) Ozil had when he came in.
"He brought his quality but he lifted the rest of the squad; they saw a real world-class player coming in and they want to show him how they can play. I think that's why they had such a great start."
One player that Seaman does not believe needs replacing is goalkeeper Wojciech Szczesny, who sat out the FA Cup final but kept a Premier League joint-best 16 clean sheets during 2013-14.
"Szczesny has had his best season for Arsenal, he's getting better and better," Seaman said.
"Some of the saves he's made are brilliant, but he's cut down on his mistakes and that's what we look at.
"When I was there, with Bob Wilson, my coach, we used to look at the mistakes that I'd made that cost goals. You try to set yourself targets of (only making) three or four.
"Sometimes it's less than that but it's the way that he reacts after he's had a little hiccup or made a little mistake that I look at. Does he react positively or does he lose confidence? With Szczesny, he has got a lot of confidence and he's reacting in the right way."
David Seaman and top female freestyler Laura Biondo, are working with Mini Babybel this summer, offering people the chance to win one of 15,000 free mini-footballs through their exciting on-pack promotion.
Former England international David, is encouraging families to get out and play football and be inspired by the skills demonstrated by Laura in the latest Babybel video. For more information and to watch the video please visit: www.babybel.co.uk