Premier League: Carl Jenkinson ready to replace Bacary Sagna at Arsenal
Carl Jenkinson says there is no chance of him leaving Arsenal - and he feels 'ready' to fill Bacary Sagna's boots.
Last Updated: 29/05/14 12:32pm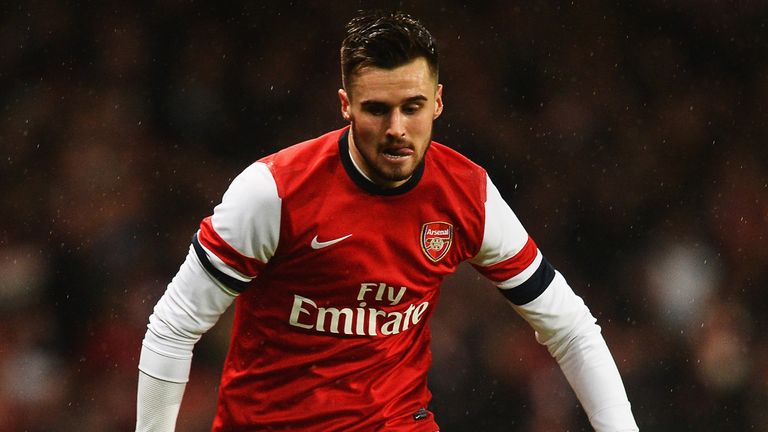 With Sagna set to depart Emirates Stadium as a free agent at the end of his contract, a defensive void will be created at right-back.
Jenkinson is the natural choice within those already on the books at Arsenal to step in.
The 22-year-old has been with the club since 2011 and believes he is now at a stage in his career where he should be looking to land a regular role at a top Premier League club.
"I feel I am ready for it," Jenkinson said in the Evening Standard.
"It is never going to be easy to nail down that spot, but I believe in myself and I believe in my ability.
"I want that position to be mine for years to come. Of course I have got a long way to go, because this is a club who look for the best players in the world.
"If I am going to hold down the position for as long as I want to, I have got a lot of hard work on my hands. But I believe in myself.
"I am the sort of player who needs to play regularly to get the best out of me. My fitness and athleticism is a big part of my game, getting up and down the pitch.
"It is difficult to show what I can do when I am not playing regularly because it is hard to get into a rhythm."
It has been suggested that Jenkinson could be sent out on loan if Arsene Wenger decides to look elsewhere for cover at full-back, but the former Charlton Athletic man is adamant that he will be staying put.
He added: "As far as I am concerned, you will have to drag me out of this club before I leave.
"I will work my socks off and hopefully next season can be a big one for me.
"If I have a good pre-season, work my way into the team and get a good run of games, there will be no holding me back."