Women's football: Arsenal look for 13th FA Women's Cup win on Sunday
Arsenal are determined to lift the FA Women's Cup to end manager Shelley Kerr's reign on a high.
Last Updated: 30/05/14 4:19pm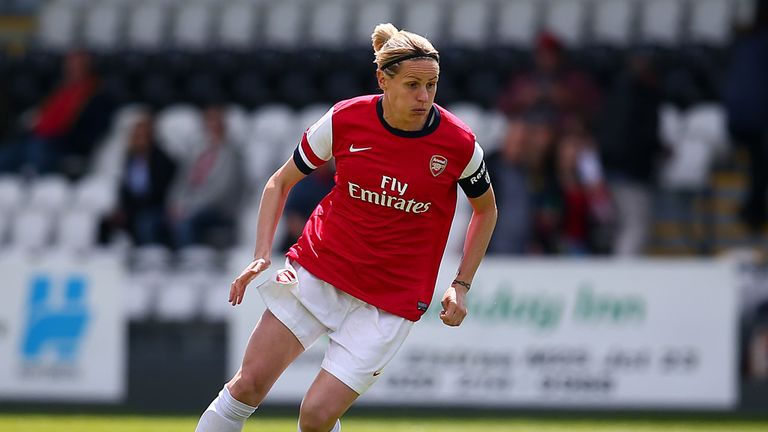 Everton are Arsenal's opponents in a rematch of the 2010 final after Andy Spence's side recorded victories over Merseyside rivals Liverpool in the quarter-finals and Notts County in the semis.
Kerr's 16-month tenure as Arsenal manager will end after the game, after she announced she would leave last season's Continental Cup winners following the disappointing start to the club's league campaign.
Arsenal are bottom of the FA Women's League after suffering three defeats in their first four matches, but Smith is urging her team-mates to send Kerr out with a win - and another trophy.
"We, as players, want to end her reign on a high," said Smith. "We'll be disappointed to see her leave, but she felt like she couldn't take the club any further.
"Nobody wants to see the manager go when you're at a club, but perhaps the last three home defeats haven't helped.
"She's a great person to be around, she just wants the best for the club and it's sad that she's going."
England international Smith is a three-time FA Cup winner herself and she believes the club's senior players play a pivotal role if Arsenal are to claim their sixth trophy in four years.
"I think our experience in these sort of occasions can help, especially the more experienced members of the team like myself, Emma Byrne and Rachel Yankey," said the 35-year-old.
"We're used to these big occasions and we need to help the youngsters.
"We were written off at the start of the season really with eight players leaving, so we've already proven a few people wrong by making the final. But we want to go one better and win it now."
Everton centre-back Fern Whelan played in the 2010 final between the two clubs when her side emerged victorious 3-2 after extra time.
The 25-year-old is expected to make the starting line-up this weekend and revealed she is optimistic Everton can produce another upset to win the trophy for just the third time in their history.
"I speak for myself but I think I speak for the team as well when I say we're hugely excited about it," Whelan said.
"I played in the 2010 FA Cup final, which was against Arsenal as well, and it was a big day, a big occasion and probably one of the most memorable days of my life.
"I'm trying to instil that sense of occasion in my team-mates. It was a brilliant day because obviously we won it but I was disappointed not to start the game.
"But I did come off the bench after about 55 minutes and because it went to extra-time I felt I really did my part in us winning that game.
"Hopefully we can do the same again this time round."