Transfer news: Karim Benzema has no intention of leaving Real Madrid
Karim Benzema claims to feel 'at home' at Real Madrid and says he will be fully fit for World Cup duty with France.
By Patrick Haond
Last Updated: 31/05/14 11:27am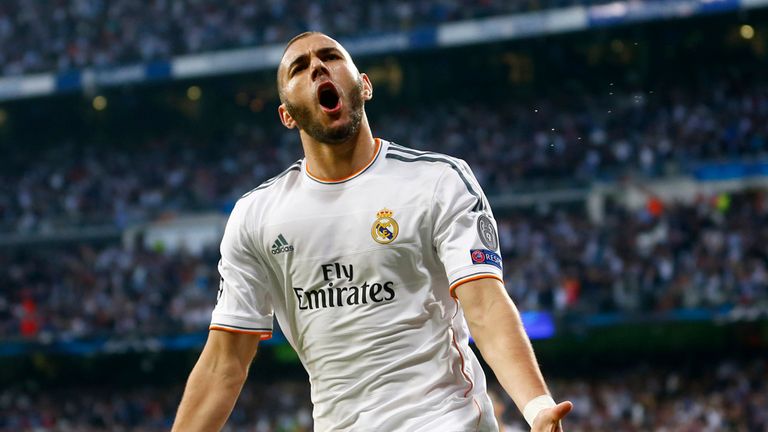 The 26-year-old striker has spent the last five years at Santiago Bernabeu, making well over 200 appearances and netting more than 100 goals.
His future has regularly been called into question, though, with each passing transfer window bringing a fresh round of speculation.
Arsenal have long been credited with holding an interest in the former Lyon forward, and are once again reported to be in the market for a proven marksman.
Benzema, though, claims to be settled in Spain - having helped Real to UEFA Champions League glory in 2013/14 - and has offered no indication that he is looking to move on.
He told L'Equipe Magazine: "I feel at home in Madrid. I am really at ease.
"Playing at Real Madrid is a joy and fills me with pride because it is the greatest club in the world and also because I have come through some difficult moments in my five years here."
One of Benzema's toughest moments came during Jose Mourinho's reign in Madrid, with the outspoken Portuguese tactician saying, 'If you can't go hunting with your dog then you have to take your cat', when forced to cope without the services of Gonzalo Higuain.
Benzema admits he was disappointed to have seen his qualities questioned by his then manager, but insists the episode only served to make him stronger.
He said: "When I saw his words I thought, 'What is this?'. Then I tried to put things into perspective. Mourinho is a guy that likes to say things, he is really into that.
"The next day at training I didn't say anything. I had one option, to let it go. Don't play me if you think I am a cat.
"There were a lot of critics and I was upset but I understood that when I get upset I withdraw into myself.
"I am a footballer, I have to accept critics. That is just the way it is."
Benzema is now very much focused on the present, with the race on to shake off a niggling groin complaint in time to lead France's quest for global glory in Brazil this summer.
He added on his fitness: "In the Champions League final I played at 40-50 per cent of my capabilities. The pain prevented me from playing my true game.
"Was it a risk? You don't get to play in the Champions League final every year and I could not miss it.
"I am receiving treatment and I will be at 100 per cent for the World Cup.
"We are not worried. I have spoken with the physios and while Sunday's game might come a bit too soon, I will be back in full training by Wednesday."