Premier League: Arsenal striker Olivier Giroud wants to improve scoring record
Last Updated: 23/06/14 10:47am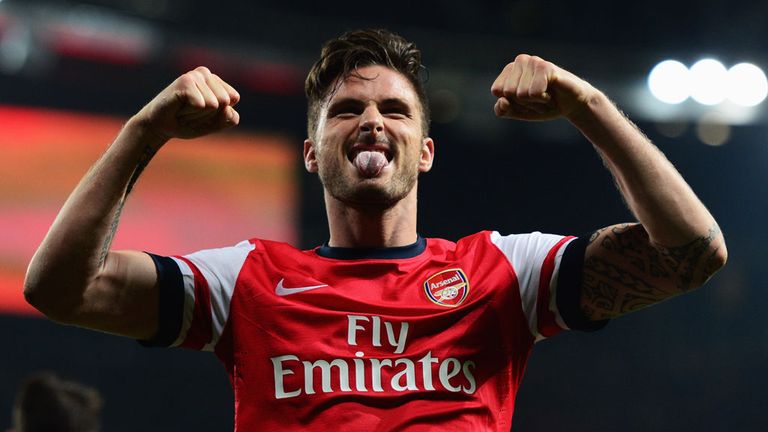 Arsenal striker Olivier Giroud is determined to improve his scoring record and revealed manager Arsene Wenger is offering him plenty of guidance.
The Gunners striker is currently helping France's World Cup bid in Brazil and claimed an historic goal for his country during Friday's 5-2 triumph over Switzerland.
After being used as a second-half substitute in a 3-0 win over Honduras, Giroud was brought into the starting line-up and got Les Bleus off to a flying start with a 17th-minute header which took France to 100 World Cup goals.
On the domestic front, Giroud netted 16 goals and chalked up eight assists as Arsenal finished fourth in the Premier League but the 27-year-old is well aware of the need for a better return.
"I feel I can go on improving," he told L'Equipe. "I can improve some parts of my game and have better statistics.
"For a forward, statistics are important, especially when you negotiate a contract. In the Champions League, it was more difficult. But you also need titles and key performances.
Arsene Wenger often gives me corrections after matches...To him, I am not crafty enough.
Olivier Giroud
"I am working hard in front of goal post to try to sort out some details. I think about missed opportunities, notably against Chelsea."
Former Montpellier forward Giroud, who made the switch to Emirates Stadium in 2012, is keen to review his performances and admits Arsenal boss Wenger is looking for him to develop into a more intelligent player.
"I have to be more decisive in the box, but also in my way to keep the ball and defend," he added. "You have to be demanding, trying to find peace in front of goal.
"At least once a week I try to work in front of goal. I have been doing it systematically since I have been at Arsenal. I need it.
"Arsene Wenger often gives me corrections after matches. We are talking about opportunities.
"To him, I am not crafty enough. Once he told me I am too frank in my runs, too predictable. I have to be more confusing."