Aaron Ramsey backs Arsenal's £30m signing Alexis Sanchez to be an instant success
Last Updated: 11/07/14 4:27pm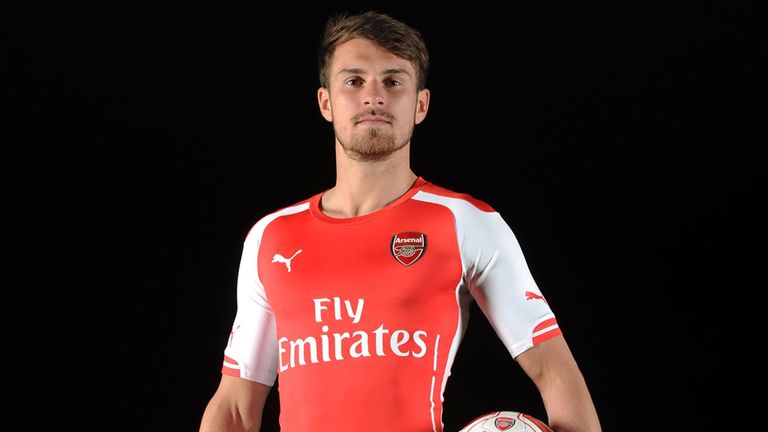 Alexis Sanchez will have no trouble settling in at Arsenal, according to his new team-mate Aaron Ramsey.
Chile forward Sanchez is now the second-most expensive signing in Arsenal's history following his £30million move from Barcelona.
And Ramsey reckons the new arrival has the quality to make an instant impact in the Premier League whether Arsene Wenger uses him out wide or as a central striker.
"I'll leave that to the manager," Ramsey told Sky Sports News. "We all know about his qualities - he's quick, he can get in behind and dribble with the ball so he'll certainy slot in with ease.
"He's a fantastic talent. He's proven it at Barcelona, and at the World Cup he was Chile's main player. I'm sure he'll settle right into this squad and show his quality.
"It's a great signing for us and he'll certainly add quality to the team and bring his own style. We're all looking forward to working with him."
Sanchez was persuaded to join after talking to Wenger, and Ramsey has welcomed the manager's decision to sign a new contract over the summer.
He said: "That was a massive moment for this club and for us players. He's been a fantastic manager over the years and one we all enjoy working with.
"He's easy to get along with and gives you his opinions on how you can improve. He has great man-management skills, and it was important for the club to get him signed up again."
If he gets kicked he gets back up again; he's got a bit of steel about him. Given a bit of time I think he should be able to settle and do really well in the Premier League.
Sky Sports' Alan Smith
Sanchez believes he can combine with another recent signing - Mesut Ozil - to help the club win trophies.
"With Ozil in the squad, Arsenal came close to winning the league title," said Sanchez. "I hope I can make a contribution so we can win as many titles as possible.
"The team not only plays really good football but the squad is really good and we can win silverware. We have a great squad, we are a big club and we can achieve big things.
"Playing regularly wasn't the only reason why I came here. I have come here to win the Premier League title, the Champions League and every title at stake. I am here to win titles and to achieve as much as possible."
Sanchez also paid tribute to manager Arsene Wenger, saying: "I know this club has a manager that looks after his players and takes care of them as well.
"I was told that he is a manager you can learn a lot with. He wants to achieve great things in football and that helped me make the decision to sign for Arsenal.
"Arsene Wenger's style of play is the sort of style the Chilean national team has, so therefore I am used to it. Arsenal plays very well, which fits my style. That is why I moved here.
"The manager has mentioned some certain positions but I am not worried about it right now. The manager and I will talk about my role as soon as I start training. Arsenal is a club that cares about its players and I can learn a lot here."
Next to arrive at the Emirates could be France right-back Mathieu Debuchy, who is expected to join from Newcastle as a replacement for Bacary Sagna.
Ramsey said: "He plays for the French national team and has good quality. I'm sure he'll settle in if he does come here."