Premier League: Arsenal boss Arsene Wenger challenges his team to win the title
Last Updated: 16/08/14 10:57am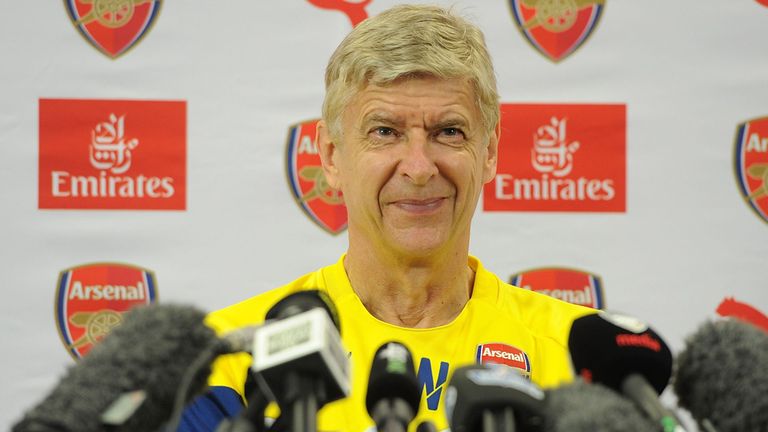 Arsenal manager Arsene Wenger has challenged his team to win the Premier League title for the first time in a decade.
Arsenal face managerless Crystal Palace in the league opener on Saturday on a high after last weekend's 3-0 win over Manchester City in the Community Shield at Wembley.
"I believe we have a chance because we were a long time top of the league last year," Wenger said.
"It is difficult to know how much better the other teams will be. We have some challenges we have of course to face that we did not face well last year, and that means we have to take more points from the top teams.
"That will be our real challenge this year and also to keep the consistency against the teams who do not fight for the championship.
"We finished fourth last year and made 79 points. Man City won it with 86, so it was very tight in the top four, that is one or two games.
"If you win against them, they have three points less and you have three points more, that means it is down to one game. So it is very difficult to predict. The only thing you know is that it will be tough."
Arsenal ended their nine-year barren run with an FA Cup final victory in May and Wenger is confident they have the platform on which to mount a sustained assault on the championship.
He added: "With the confidence of winning a trophy there is a little bit of weight off the shoulders that is for sure, but we want to show that and transform that into efficiency in our performances.
"The favourites you have again Chelsea, Man City, Liverpool, Man United and us. Then you have Everton, they were very dangerous last year as well and could be candidates. How well will Tottenham respond?
"There is no hierarchy in the teams I give you, there is no priority - they are just the obvious candidates."