Champions League: Alex Oxlade-Chamberlain backing Arsenal to reach group stages
Last Updated: 21/08/14 11:58am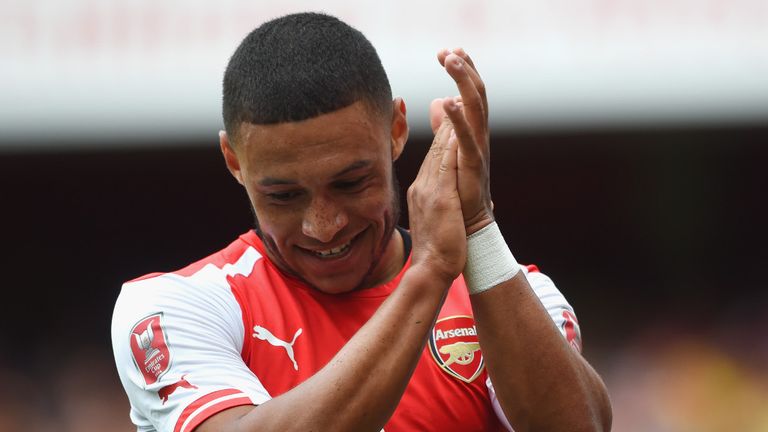 Alex Oxlade-Chamberlain is confident Arsenal's technical superiority will help them overcome Besiktas and qualify for the Champions League group stages.
Arsene Wenger's side played out a goalless draw at Istanbul's Atatutrk stadium on Tuesday night to leave next week's second leg delicately poised.
Arsenal will be without Aaron Ramsey for Wednesday's game but are expected to welcome back to their squad their German World Cup-winning trio Mesut Ozil, Per Mertesacker and Lukas Podolski.
"We have to have confidence in ourselves to come through this test," Oxlade-Chamberlain said.
"Besiktas are a quality side, and it is not going to be easy at all, they will fancy their chances as well, which will make it a good game.
"But I am confident in our team, if we approach the game in the right way, match them physically and competitively, then hopefully our technical side of our game will come through at the Emirates and we will be able to come away with a win."
The financial benefits are sizeable for Arsenal should they reach the group stages for the 17th consecutive season, with qualification worth £7m and subsequent home matches worth around £3million in additional match-day revenue.
Oxlade-Chamberlain insists playing in Europe's premier club competition against the best sides from the continent is about more than money in the club's coffers.
"It (Champions League) is something that everyone wants to play in, especially at a club like Arsenal, you almost expect us to try to qualify for," he said.
"We worked extremely hard last season to get ourselves into this position and it is something we don't want to give away at this stage.
"It is massive for the club, for the players and the supporters, we all know how important it is and I am sure you will see next week how much everyone wants to be a part of the competition."