Hibbert - Ross can be a star
Everton defender Tony Hibbert believes Ross Barkley is English football's 'next big thing' and he can be as good as Wayne Rooney.
Last Updated: 28/10/11 10:06am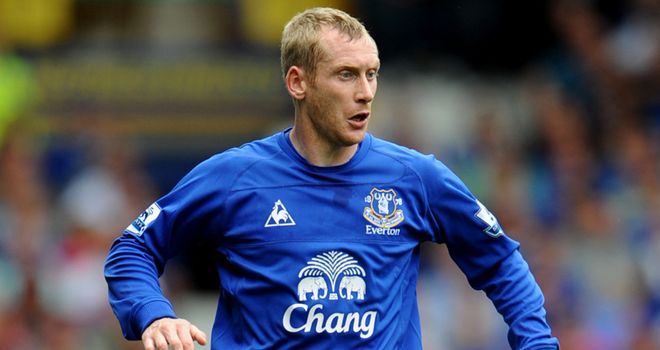 Everton defender Tony Hibbert believes Ross Barkley is English football's 'next big thing' and feels he can go on and be as good as Wayne Rooney.
The 17-year-old England Under 21 international is the latest starlet to graduate from the same Everton academy Hibbert emerged from 10 years ago.
Hibbert established himself in the Everton first team at a similar time as Rooney, who eventually left Goodison Park for Manchester United in a £28million deal in 2004.
Having seen both players first-hand Hibbert feels Barkley can go on and be as successful as the England striker, but admits the club's finances may dictate how long they can keep hold of him.
"Wayne was a jack the lad. You could go out on the street with him and get him on the park and he'd be the same - he'd be diving everywhere, going in goal, it'd be madness. Ross is a bit more level-headed. He's also bigger. Potential-wise I think he is up there with Wayne," the 30-year-old told The Independent.
"I don't know if he's a central midfielder or if he is like a No.10 off the forward or on the wing. He has got the feet, the dribbles. With Ross I think you could develop a team around him really, he's that good.
"Really we need to keep hold of Ross. Obviously how the club is with the money situation [may be a factor] but I think he is the next big thing."
Cash
The emergence of Barkley was the main bright spot in a difficult pre-season for the Toffees. With finances tight manager David Moyes was unable to spend any cash on new players and on deadline day sold creative midfielder Mikel Arteta.
A group of Everton supporters unhappy with the board's apparent inability to provide Moyes with funds have formed a protest group aiming to push for change at boardroom level.
Hibbert, an Evertonian himself, appreciates the fans' concerns but understands why the club have to be careful with the purse strings.
He is confident instead that the players can step up and work even harder to try and close the financial gap between themselves and the Premier League elite.
"I can see where they are coming from but also the club has got to survive, it has to be here 100, 200 years later," Hibbert added.
"They have got to manage the books and if it's got to be the way we are now then it's got to be and the lads have got to pull their sleeves up and have a go for the club and they are doing that for the moment.
"The teams around us are spending money but it makes you even hungrier to go and show them exactly what we are capable of and what we can do on a budget. We did that when we reached the Champions League. I don't know why we can't do that again."