Moyes welcomes Man Utd trip
Everton boss David Moyes believes Sunday's trip to Man Utd is the perfect game to get over their FA Cup disappointment.
Last Updated: 20/04/12 5:11pm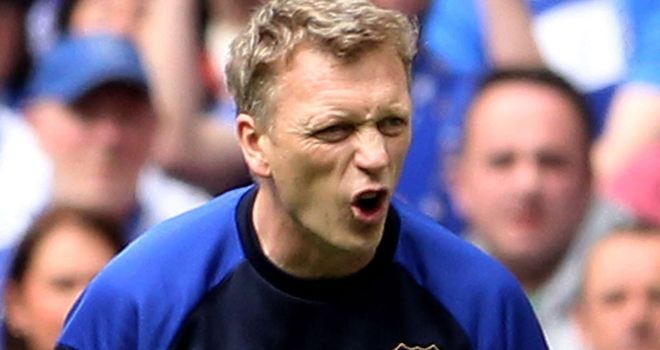 Everton manager David Moyes believes Sunday's game with Manchester United is the perfect fixture to get over their FA Cup disappointment against Liverpool.
The Toffees were beaten 2-1 by their Merseyside rivals as they missed the chance to win their first FA Cup final since 1995.
They are a point above the Reds in the Premier League table, with seventh place up for grabs, after impressive recent form.
Prior to the Merseyside meeting at Wembley, Everton were unbeaten in four games having beaten Swansea, Sunderland and West Brom without conceding a goal.
They have not won at Old Trafford for almost 20 years but Moyes is excited by the prospect of facing the league leaders so soon after exiting the FA Cup.
Disappointed
He said: "We are obviously really disappointed from the game and it is going to take us a wee while to get over it.
"It is not the sort of thing you can just shrug off. It was the semi-final of the cup and I think anyone losing a semi-final finds it hard, but when you lose to your neighbours that makes it even worse.
"So from our point of view, it will take a while, but we have a really good, tough game now and strangely enough, it is one I think I'd prefer to have than not have.
"I actually think after the game we've just had, this is as good as you can get, because we can go there with a little bit of freedom.
"We are not kidding ourselves - it will be a tough game, as it is for every team that goes there.
"But we'll give it a go and try to show the form we have been in, in the main, over the past few months."
Despite the fact that his side cannot win any silverware this season, Moyes is refusing to suggest that his players have nothing to play for.
He said: "If that's what they think, they can think that, but certainly the players and myself, we are going to try to do the best we can to finish as high up the league as we can.
"We have five games to go and we need to try to win as many of them as we can."