Nikica Jelavic has given Everton squad a lift, says defender Seamus Coleman
Everton defender Seamus Coleman says the whole team has been lifted by the form of Nikica Jelavic.
Last Updated: 30/09/12 2:43pm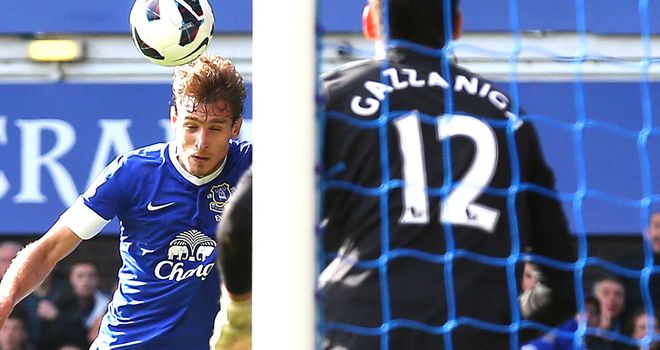 Jelavic scored two goals in the 3-1 defeat of Southampton on Saturday, Coleman setting the second up with a superb cross which the Croat nodded home.
"I was delighted to have an assist - it is a while since I've been playing right-back and I am really enjoying it," said the Irishman.
"I just put the ball in the area and Niki got the goal. He has been massive since he joined in January.
"He scored a lot of goals in Scotland and people may have wondered whether he could do it here but he's come down and made it just as easy.
"He is a fantastic striker and if you give him half a chance he'll score a goal. It is great he has been scoring regularly.
"As players it's great that if you put the ball in the area there is a chance you'll end up with a goal from Niki - it gives the whole team confidence."
With Everton second in the table, three points behind leaders Chelsea, Coleman admits the problem the players now have is coping with expectations.
"It has been a good start and that is what we aimed for at the start of the season," he said.
"If we can go into the international break with another win (at Wigan next week) that is what we are aiming for now - we are not setting any long-term targets.
"We just want to win games and see by January where we are.
"The manager and a lot of experienced players have been telling us we've had a great start but we have to take it one game at a time."