Republic of Ireland right-back Seamus Coleman hoping for Germany chance
Republic of Ireland's Seamus Coleman is hoping for a big chance on the international stage against Germany on Friday.
Last Updated: 09/10/12 2:04pm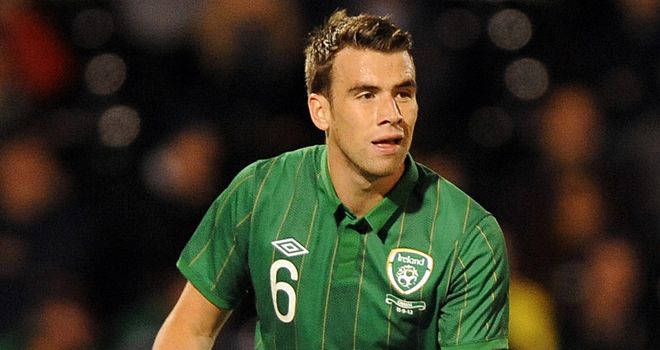 The 23-year-old Everton player is in contention for the right-back slot with John O'Shea expected to move into the centre due to injuries to Richard Dunne and Sean St Ledger.
Although Fulham's Stephen Kelly and Hull City's Paul McShane are also options for manager Giovanni Trapattoni, Coleman is well aware there is an opening available.
"It leaves a gap all right and I have been playing there for my club recently, which is a bonus," said Coleman.
"But there are a couple of other lads in the squad too whose eyes will be lighting up as well. You have got Stephen Kelly, who is playing at Fulham, and Paul McShane as well.
"It's not a shoo-in for anyone, but hopefully this week we will all get our heads down and try to impress the manager and then it's up to him on Friday."
Asked if he can adapt his natural attacking game, Coleman said: "If required. I will be ready for selection and ready to give my all if picked.
"Obviously, it might be a game for defending first and then attack. That is a big part of my game, attacking, but in games like this, you have to take a step back and see how the game goes.
"It just depends how the game is going. Even in club football, you can't just run forward whenever you feel like it, it depends how the game is going.
"Especially here with Ireland, it's a bit different for the full-backs. It's just something you have got to adapt to because every manager is different.
"If you want to play in the team, you have got to adapt and do what you're told."
Rewards
After having to wait for his chance at Goodison Park, Coleman has been a regular in the Everton side which has started the Premier League campaign so well and feels he has got his rewards for biding his time.
He added: "Every footballer wants to be in the team and no-one is happy when they are not in the team.
"But I am not a typical footballer. You will never hear me in the press giving out about not playing if I'm not playing.
"The manager has a reason for it and I will just work hard on the training ground every day of every week and try to get back in.
"Thankfully at the minute, that's paid off and I am in the team at the minute."