Everton will miss harshly dismissed Steven Pienaar in derby, says Ray Wilkins
Ray Wilkins says Everton take form into the Merseyside derby, despite a harsh red card for Steven Pienaar.
Last Updated: 21/10/12 6:56pm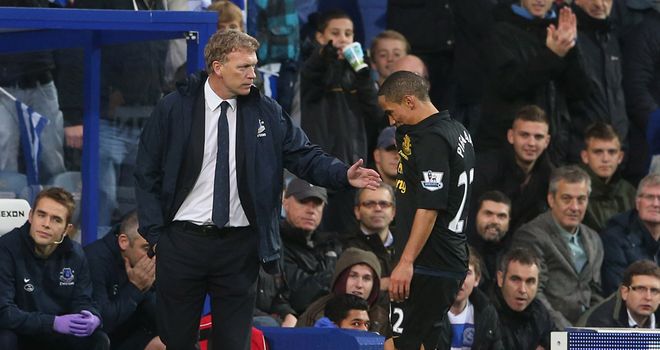 David Moyes' side will go into next weekend's live Super Sunday clash with Liverpool on a five-game unbeaten league run following a 1-1 draw at QPR, achieved despite playing much of the second half with only 10 men.
Pienaar was dismissed for two yellow cards and will miss next weekend's Goodison Park clash and while Wilkins agreed he deserved a booking for his 50th-minute foul on Junior Hoilett, there was no way he should have received a second caution for tripping Jose Bosingwa.
"The first one was a certain yellow card and in actual fact it was a bad tackle," said the Sky Sports expert.
"The second one I don't think is a yellow card at all. It's a foul at best. As Jose Bosingwa drew back his leg he got a little nick on Pienaar and he feels that, but I don't think Pienaar actually went to bring him down.
"At best it's a foul and he's very unfortunate to get a red card.
"I don't think David Moyes is a happy bunny, but they did pick up a point with 10 men and it's never easy when you go down to 10 in the Premier League.
"I thought Moyes was very positive because he kept three players up front in the hope that they might get a situation where they could score a winner. It wasn't to be today, but the momentum is still going.
"They'll miss Pienaar next week though, against Liverpool, that's a big miss for them, but they've got momentum going into what is probably their biggest game of the season up to now."
Manner
The result leaves QPR rooted to the bottom of the Premier League on three points, but Wilkins said he saw positive signs from his former club.
He was impressed with the attacking intent of Mark Hughes' side and backed them to climb out of the relegation zone as the season progresses.
He said: "They've got a talented squad and I thought at times they played some really good football. They are trying to play in the correct manner.
"M'bia at the back will take a little bit of time to settle in alongside Nelsen, who again was rock solid. For a 35-year-old playing at this level he does a remarkable job.
"As long as you've got that stability through the middle and you're not conceding through every attack they have you've got half a chance. They do have talent going forward.
"It's tough at the bottom. It's as good a fight down there as it is at the top. It was last year and I think we'll see it again this year.
"I do think they've got enough to get out of that because in the forward areas of the pitch they've got goals. They've just got to tighten up all the way around and that comes through playing with each other week in, week out and training with each other.
"I think they'll be okay. I sincerely hope so anyway."