Nikica Jelavic feels Everton are capable of claiming a top four finish this season
Nikica Jelavic believes Everton can secure a top-four finish and qualify for next season's UEFA Champions League.
Last Updated: 26/10/12 8:49am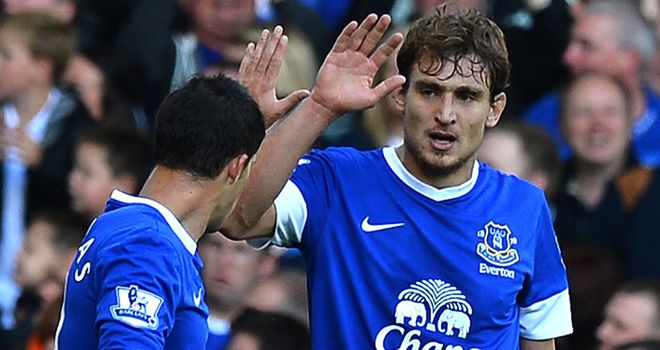 The Toffees have made an impressive start to the 2012/13 campaign, with 15 points from eight games seeing them into fourth spot.
David Moyes' men have been notoriously slow starters in the past, with early struggles leaving them with too much to do in the race for Europe.
Having bucked that trend this year, Jelavic sees no reason why Everton cannot maintain their fine form and take a seat at European football's top table.
He told the Daily Express: "We are a strong team.
"I have heard all about the success that Everton enjoyed in the mid-Eighties and what a great team they had back then.
"I can't promise that we are ready to get back to those levels just yet, but I do believe we are strong enough to play Champions League.
"We have already beaten Manchester United this season, and last season we beat Manchester City, so we have shown that we can play and also that we can compete."
Big game
Passing a derby test against Merseyside rivals Liverpool on Sunday would see Everton take another sizeable step towards hitting their target, and Jelavic is determined to play his part in helping the Toffees claim local bragging rights.
He added: "I have had two bad experiences playing against Liverpool in this country, but I did beat them in a pre-season friendly when I was with Rapid Vienna.
"Obviously, it is a big derby and it is a big game for everyone and I want to beat Liverpool with Everton."