Everton manager David Moyes has urged the referee to be strong in Sunday's derby with Liverpool
Everton manager David Moyes has urged the referee to be strong in Sunday's derby with Liverpool.
Last Updated: 26/10/12 7:10pm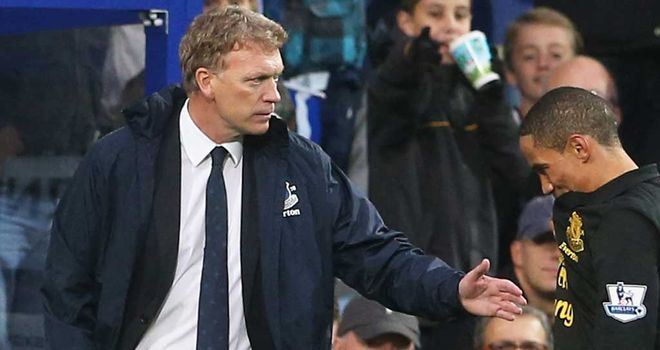 In last season's corresponding fixture, Jack Rodwell was harshly dismissed for a tackle on Luis Suarez - and Moyes was left aggrieved again last weekend when Steven Pienaar was sent off in a 1-1 draw with QPR.
The Scot said: "It was a ludicrous decision, it really was. The boy kicked Steven Pienaar and Steven Pienaar got punished for it. And not even to get a phone call to say sorry, you find that hard as well. But it's happened and we move on.
"We could have had a couple of goals against Newcastle, the first goal at Wigan was offside and then the decision last weekend. And you go back to last year's derby where it was a terrible decision to send Jack Rodwell off.
"We've still not had an apology from either the referee or the head of the referees' authority regarding that incident but there you go. That one's well gone and I shouldn't even be talking about it."
Andre Marriner will oversee this weekend's match, and Moyes believes officials need to be stronger when confronted with players who go to ground easily.
He said: "We've got to be careful. People are going to turn away from football if they continue to go to watch people who throw themselves on the ground when they're not touched.
"I think it's important you do get someone who's strong enough to identify what are the right challenges and the wrong ones, and in last year's game we got really badly done by a terrible refereeing decision."
Of Pienaar's absence, he added: "It will be hard to replace him individually because of what he gives and that's why last week's decision was even worse. If we don't have Pienaar or Fellaini then it will be two big players out.
"We played in the cup at Leeds United, we didn't do very well, and folk question why you change the team but you have to because when you have suspensions or injuries, those people have to be ready to come in and show what they can do."