Everton captain Phil Neville has spoken of his hatred at losing to Liverpool
Phil Neville has revealed his pain at losing to Liverpool ahead of Sunday's Merseyside derby
Last Updated: 27/10/12 12:48pm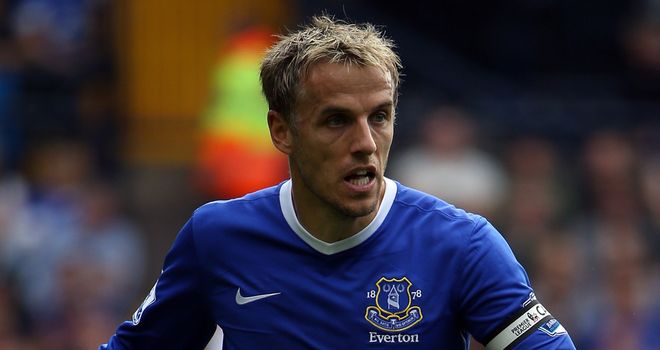 Neville is in a perfect position to comment on a rivalry with the Anfield side, having played for Manchester United before his move to Goodison Park.
Everton face their city rivals on Sunday sitting eight places and six points ahead of Liverpool, but the Toffees lost all three of the fixtures between the two sides last season.
The former England player knows that fans are expectant, and has revealed his pain at losing to the enemy.
"My wife knows that every time she arranges a Saturday night out it's based on what the result of that day's game is," Neville told the Daily Telegraph.
"If we lose, we don't go out. Simple as that, I'm no good to anyone. And if we lose to Liverpool, she might as well cancel the rest of the month.
"Listen, you can't hide from the fact there's a lot of hatred between the two teams," he says. "We'd do anything to beat each other. That said, there's real respect too.
"You look forward to the games, but you can't actually enjoy them because there's so much riding on them."
Neville added: "You know it's going to be a battle, you know you're going to get unbelievable abuse, but what you fear is the losing. Winning's fantastic. But losing? We got beat there last season. It was terrible. You are letting your supporters down and you know this is the one that matters to them."