Everton boss David Moyes claims he is not bothered by criticism of his team
David Moyes is unconcerned by criticism of Everton's playing style as he insists his is the only opinion which matters.
Last Updated: 02/11/12 1:33pm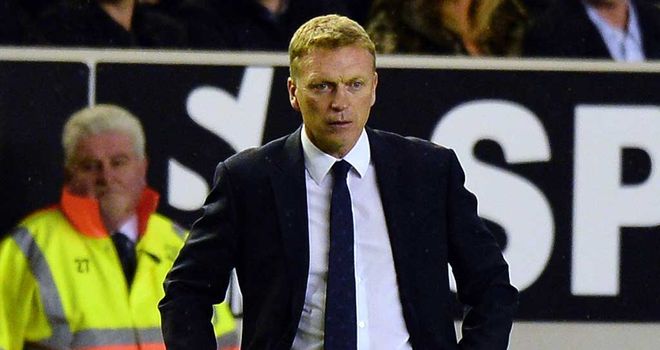 The Scot believes his side have many more facets than initially suggested by Steven Gerrard after last week's Merseyside derby when the Liverpool captain described the Toffees as "playing like Stoke" before later retracting his comments.
Moyes believes the statistics speak for themselves and Everton would not be fifth, one point off the Champions League places with only one defeat all season, had they not got more to offer.
"Your style is whatever suits yourself," he said.
"Neutrals who have watched Everton would say our style is exciting and entertaining; you are seeing chances and goals.
"More importantly, if you ask any Evertonian what they think they would all say we've played very well.
"And even more importantly if you ask the manager how it has gone I would tell you Everton have played really well, passed it well.
"I think we are one of the teams who have made the most chances in the Premier League, we have scored a lot of goals (only Manchester United have scored more away from home)."
Don't bother
Moyes added: "I think we have been good value and good to watch.
"I don't really bother with what Liverpool think to tell you truth, I only bother what I think.
"We pass it very well and hit lots of good long balls at the right time as well so I think we mix our game up and that is why people are talking about Everton.
"When you have Leon Osman, Steven Pienaar, Kevin Mirallas and Steven Naismith there will be a style you have to play with those players.
"But we are also able to use Nikica Jelavic and Marouane Fellaini at times so we have different variations."
Moyes believes only a quirk of the fixture list has prevented Everton cementing their place in the top four, from which they dropped out after last weekend's 2-2 draw at home to Liverpool.
Saturday's game at Fulham is their 10th of the campaign, which the manager said was always his yardstick in assessing how good a start they had made.
But he believes the platform they have given themselves means they now have to maintain it during the busy middle section of the season.
"After tomorrow we will have played six away games and it can distort your short-term points tally," Moyes added.
"If it was the other way around, with our good record at Goodison, we could have had another four or five points on the board.
"Most people, me included, would say it has been a far better start than we've had in the past and if we win at Fulham it will be a really good start.
"But if we are going to hang onto the coat-tails of the teams above us we are going to have to keep winning games and playing well.
"When you are challenging at the top people try to get to you and make sure you don't do as well but we've enjoyed it.
"We will just keep doing what we have been doing in recent weeks. I am pleased with the way the players are playing.
"We've got a tough game at Fulham, who I can see being one of the sides pushing to be in Europe.
"We've always found games against them tough and going to Craven Cottage is a hard place to go. But if we keep playing as well as we have been we'll win games."