Fulham boss Martin Jol aims to emulate opponents Everton
Fulham will be happy with their season if they finish near Saturday's opponents Everton, according to Martin Jol.
Last Updated: 03/11/12 2:12pm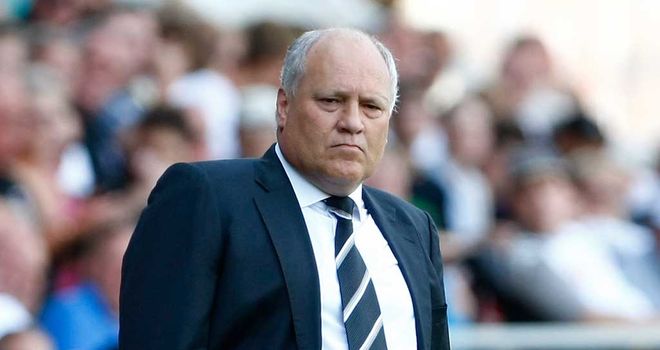 David Moyes' side have become the benchmark for the Premier League's less wealthy following successive seventh-placed finishes, and an unusually strong start to the season has heightened ambition at Goodison Park.
Fulham ended last season within four points of the Merseysiders and, ahead of the weekend game at Craven Cottage, Jol said: "That was a great statistic to be near Everton because I see them as being the best of the rest.
"We always admire Everton. Everton are an example for so many clubs. Over the last 10 or 12 years most of the time they were in the top seven. Outside the recognised top clubs I think they are the best."
Jol's side have scored 19 times already in the league despite losing Clint Dempsey and Mousa Dembele in the summer.
He said: "We have scored as many goals so far as normally we would until February or April, so that is good. We lost our top scorers but up until now it is more productive than it was before."
Everton are no slouches either when it comes to goals, having scored 17 in their nine games so far this season.
Jol puts the Everton success down to the consistency of manager Moyes, who has assembled a squad of quality players.
Jol said: "If you are at a club like Everton for many years then you must be doing something. There is a good structure to the club, they buy one player every year and fit him in. There is a consistency.
"We have done that in the last couple of years and hopefully we can do that in the future. They are the benchmark for a lot of clubs."