Goalkeeper Tim Howard is confident Everton can finish fourth this season
Tim Howard remains confident Everton can finish fourth despite the frustration of being held to four consecutive draws.
Last Updated: 09/11/12 5:39pm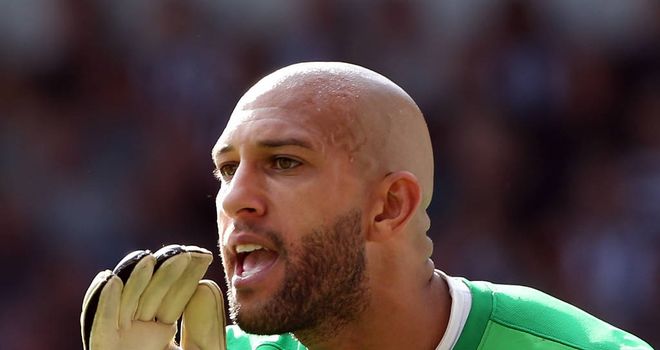 The Toffees sit an impressive fourth in the table after a strong start to the season but have not won since their home triumph over Southampton at the end of last month.
Howard admits the run of draws is not ideal but says the mood in the camp remains as upbeat as ever as Everton bid to finish in the UEFA Champions League places.
"There have been a few too many draws recently, but we are not discouraged by that," said the American keeper.
"I think you can see that our performances have been good, and what I've come to realise in the last 10 years is that if you keep your performance level high, more often than not you get results.
"I think there are certain teams where, if they play as well as they possibly can over 38 games, the best position they can probably finish in is 10th because that is the quality they have, and that is the reality of it.
"But the reality of our situation is that if we play really well over the course of 38 games, we have the talent to finish fourth.
"There is not a lack of quality - it is just about making sure we stay consistent over the long haul. And can we do it? Yes, we can do it."